AsianConnect88 Overview
AsianConnect88 links players across the globe to the best Asian bookies. With unique wagering methods, it is an established name in the online broker industry providing premier Bitcoin gambling services.
This gaming portal is licensed and regulated by the gaming authority of the Government of Curacao. It caters to a broad market composed of thousands of bettors from over 40 countries. However, US players are not accepted.
AsianConnect88 Pros & Cons
Pros
Multiple language support
Unique betting services
Live chat support
Access multiple sportsbooks
Cons
No bonuses
Anonymous signup not allowed
Lacking variety in services offered
Asianconnect88 Bitcoin Games
Asianconnect is your premiere bitcoin sports betting broker that provides exclusive access to betting in Asia. Their goal is to give you a personalized gaming experience to suit your every sports betting need. Asianconnect's team of specialists and customer service representatives are always available for you.
Bitcoin gambling customers are provided with two types of services. The first is access to multiple Asian sportsbooks through a portal service. The other is AsianOdds. The site serves as a feeder to AsianOdds, where punters can use comprehensive tools to make bets on their favorite sports.
In addition to sports betting, players will find limited Bitcoin casino gambling action. Most casino gambling is offered as side games at sportsbooks. This site is best suited for sports bettors.
Like most sportsbooks, these sites are Bitcoin-friendly rather than actual Bitcoin casinos. As such, you will be betting on sports or playing online casino games using the primary currency of the region, or in EUR.
Software Features & Graphics
This website is actually a portal that links you to multiple Asian sportsbooks. As such, the website design is somewhat simplistic, but it serves its purpose well. Through the site, you access to several bookies, namely SBOBet, MaxBet, PS3838, Matchbook, BETISN, and SingBet. You can learn more about the individual bookmakers at the website before signing up for an account
Account
Unlike many Bitcoin gambling sites, this website requires that you give personal information when creating an account. In order to enjoy the AsianConnect experience you must enter your email address, full name, date of birth, and contact phone number as part of registration. Anonymous account signup is not possible. While this is not ideal for Bitcoin gamblers, rest assured that all your data will be kept private.
AsianConnect88 Imagery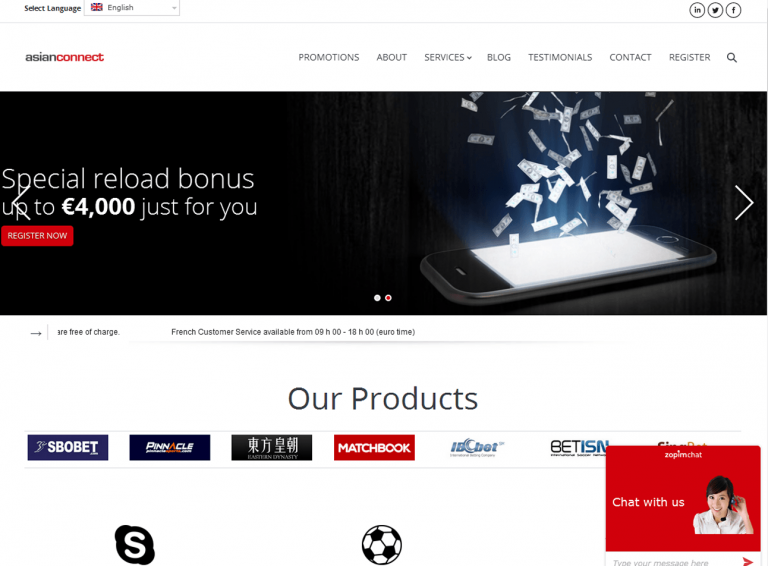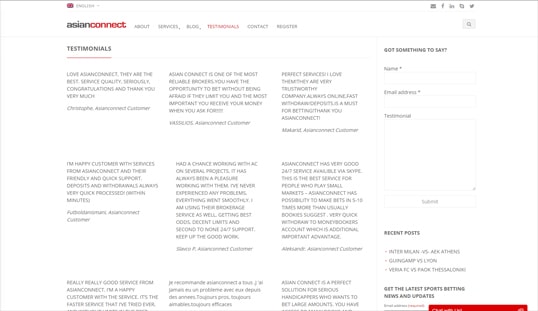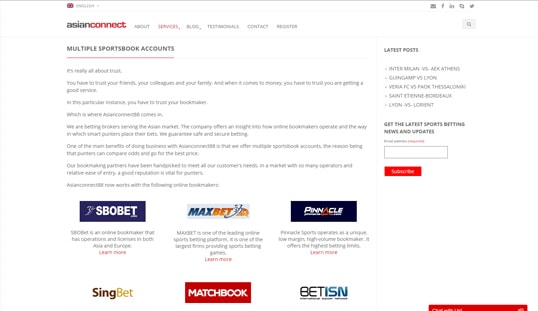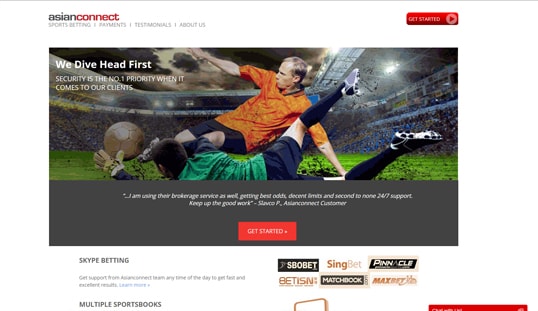 Deposits and Withdrawals
AsianConnect88 is the ultimate destination for players seeking a Bitcoin-friendly sportsbook rather than a true Bitcoin sportsbook. Presently, Bitcoin is the only cryptocurrency accepted by the site. They also take fiat deposits using Skrill, NETELLER, ecoPayz, and bank wire. The minimum deposit is 10EUR or the Bitcoin equivalent.
When you're ready to cash out, your funds will be converted back into Bitcoin for transfer back to your Bitcoin wallet. There are no minimum withdrawals for this site, nor are there any fees to cash out. As always, you will pay standard miner fees for any transactions made through the blockchain.
Bonuses & Promotions
Unfortunately, AsianConnect88 doesn't offer any promotions for new players or existing players. They do have an affiliate program that rewards you when new players register and play on the website. Details on the affiliate program can be found on the site.
Support
Should bettors have any problems, they can reach customer support easily thanks to 24-7 live chat. A dedicated customer support team will always be ready to help. You can also contact support via email. For basic questions, a FAQ section is also available.
Helpful Links
Frequently Asked Questions
Unfortunately, you cannot. This site only accepts Bitcoin for deposits. Our best suggestion is to convert your altcoin to Bitcoin and make your deposit that way.
Not at this time. AsianConnect88 does not offer any form of promotions for their portal. They do offer an affiliate program, but that only rewards you based on signups from other players. You can learn more about the affiliate program on the website.
Absolutely. This website serves as a portal, so it is mobile-optimized for all mobile devices. Your best bet is to use Google Chrome or Safari to ensure compatibility. Note that this is only for the portal. We cannot guarantee that all sportsbooks offered will be mobile-optimized. You will have to check those sites separately.
No, they do not. You can visit the website and learn more about their services, but you will not be able to register for an account from the United States.
No. You cannot register for an account anonymously at this site. You must enter your full name and provide a telephone number as part of registration. Furthermore, you will be required to go through account verification at some point, generally before you cash out from the sportsbook.
AsianConnect88 is entirely legit sports betting brokerage, as they are fully licensed and regulated by the Government of Curacao. However, keep in mind that AsianConnect88 is merely a broker portal rather than a true sportsbook or online casino. The good news is that all sportsbooks and products offered through this portal are also licensed. You can research the licensing information for each sportsbook by visiting their site.
You must deposit at least 10EUR or its Bitcoin equivalent to play at this site. There are presently no minimums for cashing out from the site. Note that all deposits will be converted to EUR for use on the website. When you're ready to cash out, your funds will be converted back into Bitcoin.
The majority of sites offered through this portal are sportsbooks, but a couple also offer online casino games. Games provided are considered side games by the sportsbooks, so options may be limited.