BetMoose Overview
BetMoose highlights the prediction market by integrating Bitcoin into the system, giving bettors more benefits in wins, payments, and security.
BetMoose is an online Bitcoin betting platform designed for placing bets on the possible outcomes of future events and for creating such events that can be about sports, Bitcoin, entertainment, news, politics, or basically anything under the sun.
Having been established in 2014, BetMoose is one of those who pioneered the innovative P2P social betting exchange system, where players can bet on anything, and create their own bets, giving them opportunities to win more bitcoins.
Operator Details
| | |
| --- | --- |
| Established | 2014 |
| Payment Options | BTC |
| Type | Betting |
| Markets | Politics | Economy | Stocks | Entertainment | Esports | Sports | Bitcoin |
| Compatiblity | Mobile, Tablet, Desktop |
BetMoose Pros & Cons
Pros
US players accepted
Vast numbers of opportunity to win
Create your own bet feature
Live chat available
Cons
No other cryptocurrency accepted
No other gambling games present
No phone support
Complex account management
BetMoose Games
All the bets placed for each event on BetMoose are pooled together. Thus, bettors play against their fellow players and not against the house. This setup makes this website better than the sportsbooks in terms of the odds while also making it flexible as compared to the traditional prediction markets.
Here, players also have the ability to host an event other than simply placing bets on several scenarios. Hosting is an easy task, but this should be taken seriously since it should satisfy the requirements set by this platform: objective, verifiable outcome, and correct resolutions.
Mistakes or wrong details in hosted events result in deduction or loss of commissions and ratings.
Meanwhile, when it comes to betting, BetMoose uses the Time Multiplier, so placing a bet while the event is still far from producing a result is advised to guarantee a larger payout.
Software Features & Graphics
BetMoose's website, in spite of its proprietary-powered software, boasts a unique organization of bets and other website paraphernalia. This results in one of the most convenient and sought-out platforms in the field of Bitcoin prediction markets.
Account
Registering for an account is essential, and this offers benefits like 2-click bet placing with instantaneous confirmation, transparent and detailed transaction and betting history, as well as the ability to host an event among many others.
Having an account exempts you from the possibility of having problems with receiving payouts, which is more prone to unregistered, anonymous bettors.
However, if you still prefer to bet anonymously, placing bets on the events without signing up for an account is allowed here. It strips you off, though, of the benefits registered users enjoy on top of the possibility of keying in an incorrect receiving address when collecting payouts.
BetMoose Imagery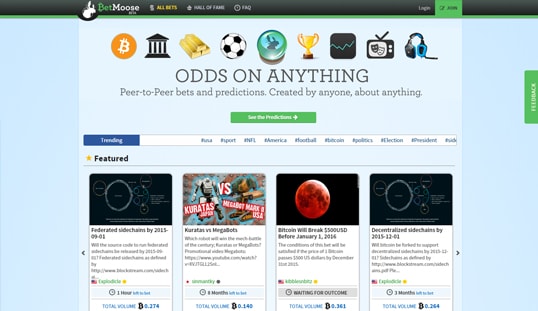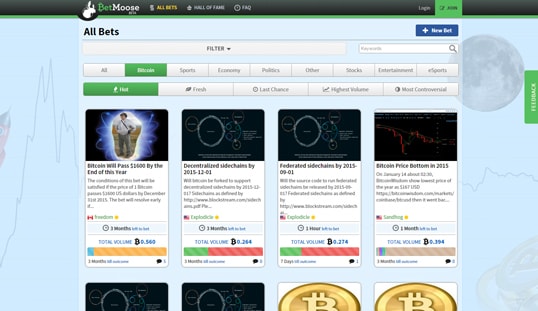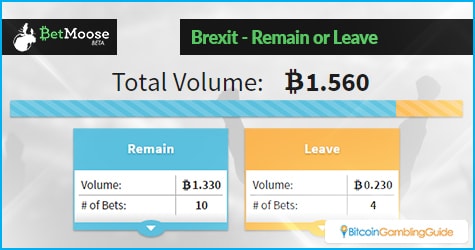 Withdrawal & Deposits
There is no need to fund your account since BetMoose requests your BTC address upon registration. This means that when you place a bet, you just need to enter the amount of your bet and your BTC address. Withdrawals go the same way. If in any case you win a bet, BetMoose will send your winnings on the address that you used on placing a wager.
Support
BetMoose's customer support staff can be reached in different ways. The site has a live chat feature for swifter resolution to your queries. For a more detailed question, you can send the department an email. If both methods have issues, you can always get them through their social media sites.
Helpful Links
Frequently Asked Questions
While many online gambling sites, even the bitcoin-friendly ones, have restrictions as to who can play on their website, you'll be glad to know that BetMoose allows American players to register and join in on the fun.
All you need to do to deposit bitcoin with BetMoose is first sign up for an account with a username and password. There will be a text box available that allows you to copy and paste in your preferred bitcoin address. This works for withdrawals too. Once you sign up for an account, you'll be able to go into your account settings and click Bitcoin as your deposit option to reveal the deposit address.
BetMoose offers two-click betting allowing you to place quick bets. Simply select your odds and bet a set amount if you want to do it quickly, or enter in your own bet amount. This gives you options. Placing a bet is simple and virtually instantaneous.
You'll be glad to know that BetMoose is definitely safe to use. The site has been around since 2014 and has established a cult following among online gamblers who want to use Bitcoin.