Bitcoin Darts Overview
If you want to try a new and unique bitcoin game, well you just got a bull's eye as you can now play online dart with bitcoins. With Bitcoin Darts, you can enjoy the thrill of hitting the dartboard for a good bitcoin win. Bitcoin Darts offers online darts with bitcoin; hence, this digital coin is the only payment method accepted in the site. Therefore, knowing how to buy bitcoin is crucial, but don't worry; getting them is easy. Furthermore, the only language offered here is English.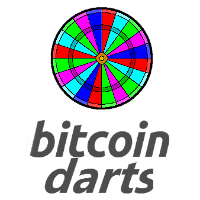 They have provided full details on how much you can win if you hit a certain spot. The highest is 1000% if you land on the Double Bull's eye, and 500% for the Bull's eye.  Other spots which are represented by different colors also have their corresponding percentages of possible win. Blue has 200%, Purple with 120%, Cyan pays 100%, Red gives 50%, and lastly 20% for the color Green. More than that, the outer ring doubles the payout and the inner ring triples it. However, if you land outside the board, you will receive nothing.
To start the hit in Bitcoin Darts, you must also provide the address to where you want to receive your winnings. Then, you have to send your payment to the wallet address they have provided for each game. Take note that the winnings will be rounded to the nearest 0.001; hence, if you want to have the exact amount, you must bet within the 0.01 BTC increments. The maximum bet here is 20 BTC and if you pay above that limit, your bet will be returned.
Transparency and security are also emphasized in this site. They have assured that in every bet, a payment hash is generated from a transaction id, predetermined secret and the last four digits of that number matches the x and y coordinates on the dartboard. You will be given the secret hash before betting so you can verify later if the results are chosen fairly.
Bitcoin Darts also offers good Bitcoin casino game platform. Their dartboard is of accurate size, good enough for the players to easily determine where exactly their dart land; hence, know the corresponding percentage of their earnings. On the other hand, this site provides customer support via email and an affiliate program to earn extra bitcoins. This program pays 1% of every bet that is made through your link. You can receive this after the bet is confirmed and the earnings of the player are paid out.
Bitcoin Darts will surely add color to your bitcoin betting life as aside from the great fact that it offers good deals of features like complete anonymity, easy way to start, and speedy transactions, it also provides the excitement and thrill of getting a double bull's eye in playing your favorite online dart game with bitcoins.