Bitvest Overview
Bitvest is one of the OGs of Bitcoin gambling. Launched back in 2015, it is one of the oldest BTC gaming sites in operation online. The site isn't the largest online casino, but it offers some of the most popular types of BTC games.
Also, Bitvest offers something you don't find at online casinos. You can customize paytables on games to try and improve your odds of winning. Learn more about this online casino in our Bitvest review, including how you can win up to 100 million tokens in their Bitcoin faucet.
Casino Details
| | |
| --- | --- |
| Year Established: | 2015 |
| Compatibility: | Mobile, Desktop, Tablet |
| Type: | Casino |
| Payment Types: | Bitcoin, Litecoin, Bitcoin Cash, Ethereum, Dogecoin |
| Games: | 6 |
Bitvest Pros and Cons
Pros
Customizable Paytables
Provably Fair
Tokens Faucet
Multiple Paytables for Each Game
Cons
Low Number of Casino Games
No Live Chat Support
Fees on Withdrawals
Bitvest Casino Games
Bitvest is an online casino and gaming site with some of the most popular forms of Bitcoin gaming. The site offers six total games consisting of Plinko, Dice, Slots, Keno, Bitspin, and Roulette. Each game gives you six paytables with varying variance and RTP. For example, the Purple table on slots gives you a flatter overall payout than the Red, which has much more variance but higher top prizes.
All games offer automatic betting, meaning you can set how much you want to bet and how many games you want to play. The games will then play until you reach the number of games programmed or run out of money.
If you want a break from games or want to meet some fellow Bitcoin gamblers, check out the chat section. Chat is not just a fun way to meet other players, but you can earn Tokens through Rain or Tips from other players.
Software Features & Graphics
Bitvest is your standard old-school Bitcoin online casino. The games are all proprietary in nature and very simplistic in design. Games are designed for speed and functionality over aesthetics. However, there's one feature that separates Bitvest from other sites. They allow you to modify game paytables on most games, provided that you meet the minimum RTP of the game.
For example, you can modify the payouts on Slots to allow a flatter payout overall. You can also save your custom paylines for future use. We tried this on both slots and Keno to try and reduce our variance with favorable results.
If you prefer the look of modern online casinos, this isn't the site for you. However, if you want a functional Bitcoin casino with provably fair gaming, this site will meet your needs. The ability to modify paytables is a great feature we'd like to see at more BTC casinos.
Account
Bitvest allows users to create anonymous accounts. Just click on the Create Instant Account button to set up your initial account. Clicking the button will set up an automated username and a Secret URL that you can use to recover your account. However, you can convert your account to a full account by going to the Account tab and creating a unique username and password.
That's all that's needed to create an account at this site. Two-factor authentication is also available for account. No other information is required.
Bitvest Imagery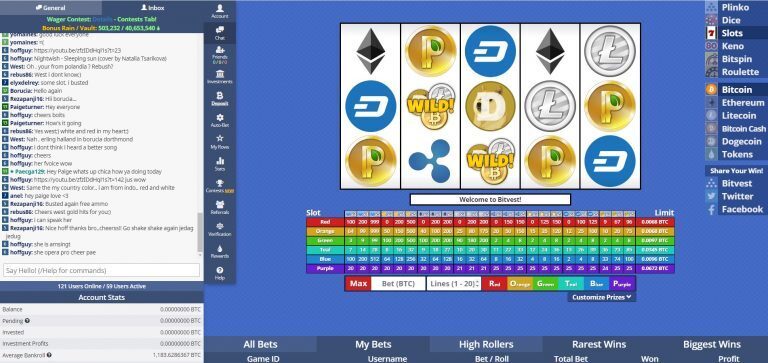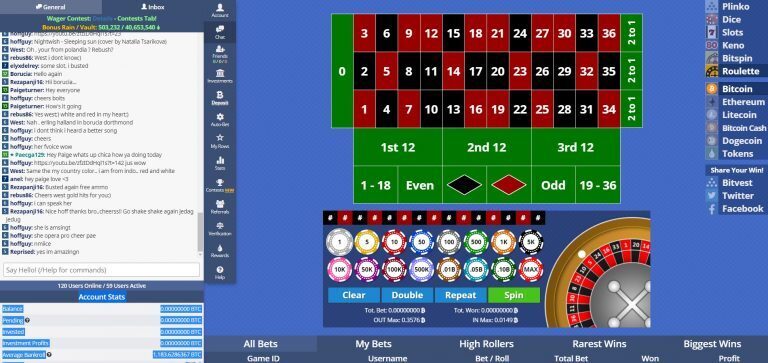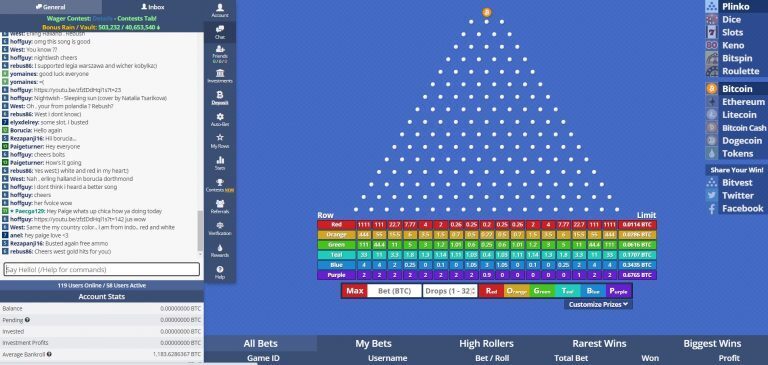 Withdrawal & Deposits
Bitvest allows you to play on its site for free through their free tokens faucet. You can make a claim every 90 seconds and can up to 100 million tokens on a claim. However, there is a catch. First, you must have less than 200 tokens in your account. Next, how much you get is based on the variance level you choose. There are five levels with Red having the highest prizes and the most variance to Blue, where you have minimal variance but no chance to winning the 100 million tokens jackpot.
Tokens cannot be purchased. They can be received through faucets, through tips and rain in chat, or won through games. You can convert Tokens to BTC if you have 25,000 or more.
If you prefer to deposit, you can do so with Bitcoin, Litecoin, Ethereum, Bitcoin Cash (BCH), and Dogecoin. There are no fees to deposit outside of miner fees. However, there are fees for withdrawals. The fee for Bitcoin is .00012. Fees vary based on the crypto used.
Bonuses & Promotions
Bitvest does not offer online casino bonuses. However, they do offer both a referral program and an investment program. With the referral program, you can earn a commission from every player that signs up to the site through your affiliate link. Commissions go three levels deep.
Alternatively, you can invest crypto into the online casino. You can put up BTC or another crypto as a public bankroll, and your investment makes money off of the profits from the website. Investments come with risks, so read all of the terms before investing any of your crypto.
Support
Bitvest has multiple options for customer support. Their Help section has a FAQ that gives you answers to many basic questions. If you need additional help, you can send support an email or submit a ticket. Users in the chat may be able to help you get help as well. Also, if the matter is urgent, contact a chat moderator. Moderators can reach site admins quickly to expedite your request.
Frequently Asked Questions
Indeed! You can deposit using Dogecoin, Litecoin, Ethereum, and Bitcoin Cash (BCH). Do not use Bitcoin SV, or you will lose your funds.
Absolutely. You never have to enter personal information to play at the site.
There are no fees to make a deposit, but there are fees to cash out. Fee details are available on the website.
Indeed! The website is completely mobile optimized and should work in almost any mobile browser.
Yes! The Bitcoin faucet allows you to earn up to 100 million tokens every 90 seconds. However, you must have less than 200 tokens in your account to make a claim.
Yes. There are no limitations on the ability to register or play at Bitvest.
Yes! Bitvest has been in the BTC gambling business since 2015 and has a stellar reputation amongst players.