BTC on Tilt Overview
BTC on Tilt is created based on the fact that bitcoin is currently in its full bloom; hence, answer to the demand of the online gamer's majority who would want to try the wonders that bitcoin offer. There are colorful spectrums of poker games offered in this site like Texas Hold'em, Omaha, Omaha Hi-Lo, 7 Card Stud, 7 Card Stud Hi-Lo. However, in contrast with that spectrum, only one language is offered in this site which is English. Furthermore, in terms of payment method, only one is allowed and accepted and that is bitcoin.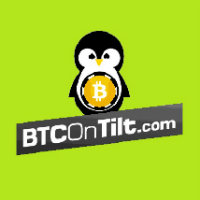 Like any other Bitcoin casino, BTC on Tilt also offers several bonuses. First is the deposit bonus wherein you are given certain amounts of bitcoins for free by depositing sufficient amount of bitcoins. Second is that they have a referral program wherein you can gain rewards for signing up and inviting your friends to join this site. All you need to do is to tell your friends to enter your username in the form or use your referral link as posted in your page.
In terms of deposit and withdrawal, here is the info. When you are depositing bitcoins, the process take roughly 2 to 5 minutes and it is possible to take longer since they require a confirmation from the Bitcoin Network. However, in the case of withdrawal, it is the other way around as if you withdraw anything less than 20 bitcoins will be sent to you instantly. Amounts above 20 bitcoins are definitely completed within hours of request.
To get started, just click on the "play now!" button. You have to fill-in several information based on their sheet: your e-mail address, username, password, bonus code (optional), your gender as well as your confirmation that you are in the legal and age and have read the terms and conditions together with the privacy policy of the site. However, there's the option two. If you are not yet confident with the site and want to know better about their offer, you can always create a free account. Just click on the "Create Free Account" Button and fill-in the same form. More than that, you have two options to play using this site, first is to play online and second is to download and install the app so you can enjoy it in your own PC.
With graphics design, BTC on Tilt offers a unique and incredible one unlike other online Bitcoin gambling sites. Usually, other brands would use black, mixed with shades of blue, green, or red which creates a serious yet relaxing atmosphere. However, in this site, aside from the usual combination of black and blue, bright colors are added like yellow, red, and orange that definitely created a playful ambiance that every player will surely love.  Another positive thing about this site is that they already gave useful information that a player, novice or not, might need, most especially the information regarding bitcoins. Also, they provide 24/7 customer support service so you can address your question to them anytime you want.
There are also latest additions and improvements BTC on Tilt promised their gamers like new table sounds, increased user activity, fresh lobby layout, global chatterbox, $100+freerolls, as well as increased support and table managers. So, do you think BTC on Tilt is an amazing online poker site? Read more about BTC on Tilt now.
Alternative Bitcoin Gambling Sites