BuzzLotto Overview
BuzzLotto is an online lottery agent that brings the leading lottery games to everyone in the world in exchange of fiat and Bitcoin payments.
BuzzLotto makes playing online lottery more convenient, especially to players who live in countries without decent access to lottery games. It functions independently from the lottery draws it offers and therefore serves as a medium through which average players like yourself can use to make the most of your chances of winning massive jackpots of lottery games from different regions in the world.
Seymour Marketing Ltd. is a European Union-registered company that operates BuzzLotto. This online lottery service provider is currently headquartered in Curacao, but it has a local office in London. BuzzLotto is a newcomer in the Bitcoin gambling sector and is arguably offering a new kind of service for Bitcoin players, except for those in the US and Israel. Other than the conventional payment methods, BuzzLotto accepts Bitcoin, and this makes it a welcome addition to the growing industry of Bitcoin gambling.
Bitcoin Games
BuzzLotto doesn't hold its own lottery games and draws nor does it sponsor such. What it exactly does is it brings the lottery draws closer to players who have no access to the huge lottery draws in North America, Europe, and other regions.
As of writing this review, BuzzLotto provides access to seven international lottery games: Powerball, SuperEnalotto, Mega Millions, EuroMillions, Eurojackpot, UK Lottery, and Polish Lotto. All these lottery games are open to players worldwide, provided that they don't violate any policies or laws specific to their countries.
If you want to join the SuperEnalotto, for example, you can conveniently do so by simply buying tickets at BuzzLotto. These tickets are valid and legal and follow the draw dates of the respective lottery games. You also have the option to buy single tickets or be part of a group that buys a huge number of tickets for a draw. The more tickets you buy, the higher the chances of winning are. But if you're in a group, expect the prize to be shared among the players.
Software Features & Graphics
BuzzLotto makes online Bitcoin lottery absolutely easy. Its website won't intimidate beginning players now will it dissuade you from actually joining. Every basic thing that you need is provided on the website and it's up to you if you'd want to start buying tickets already. Once registered and with enough funds to buy a ticket, you'd realize how simple it truly is to buy your first-ever online lottery tickets for any of the seven international lottery games. Just follow the basic instructions and you'll find yourself waiting for the draw results or buying another ticket.
Account
Everyone must create an account with BuzzLotto. Signing up is a total breeze. You just have to provide an email address and a password then verify the link sent to your inbox. What makes it even better is that your account is initially anonymous and that you won't have to provide your name, especially if you're using Bitcoin as the banking method.
BuzzLotto Imagery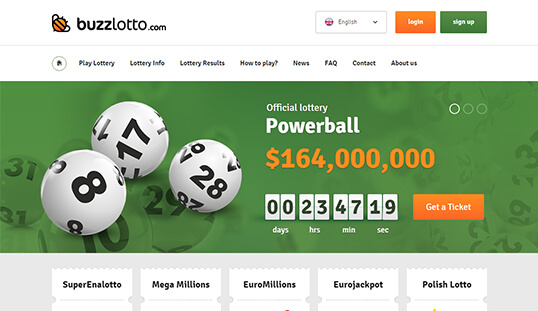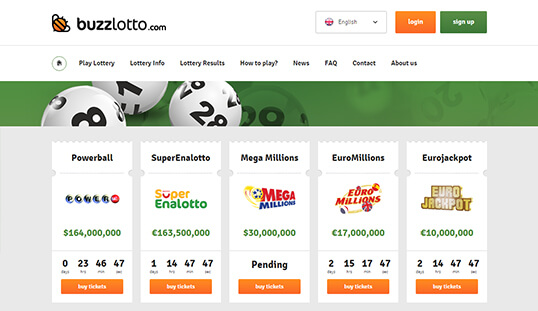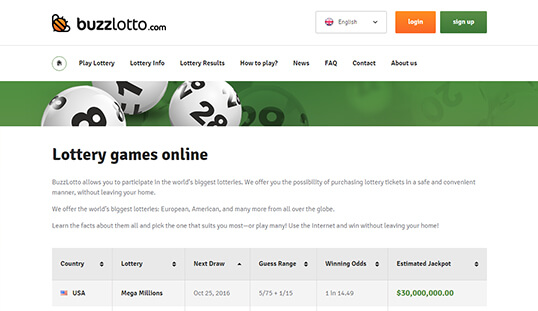 BuzzLotto Withdrawal & Deposits
All transactions are done in euros but you're provided with options on how you will deposit or withdraw. The default method is through credit cards, but you can also use Skrill, NETELLER, or bank wire transfer for cashing out. If you're using Bitcoin, then Cubits will process your deposits and withdrawals. Not only does this guarantee secure transactions, but it also assures of quick payments.
Bonuses & Promotions
Unfortunately, BuzzLotto doesn't come with a generous set of bonuses. It would be better if it would add a referral system that would at least give players some incentives upon sharing the word about BuzzLotto.
Mobile Games
Bet365 games are compatible with different mobile devices. The casino also allows players to watch live matches and racing events on their phones or tablets.
Support
BuzzLotto doesn't hide behind fake information. Instead, it actually opens as many lines as possible for their customers to reach them. Email addresses are provided for support and payment concerns while a phone number is also available. A live chat function would be appreciated, though.
support@buzzlotto.com
+442081900351