DuckDice Overview
DuckDice is one of the oldest Bitcoin dice sites still in operation. Open since 2016, DuckDice offers players outstanding odds on crypto dice games along with a lucrative weekly lottery draw.
If you love to play dice, then DuckDice is worth checking out. Learn more about the site in our DuckDice review.
DuckDice Casino Details
| | |
| --- | --- |
| Established: | 2016 |
| Games: | 3 |
| Cryptocurrencies Accepted: | 100+ |
| Bitcoin Faucet: | Yes |
DuckDice Pros and Cons
Pros
Set Your Own Win Chance
Weekly Lotteries
Faucet Available
Accepts Over 100 Cryptocurrencies
Cons
Poor English on Website
Fees for Withdrawals
Us Players Not Accepted
DuckDice offers two forms of gambling, dice, and lottery. The dice game is a simple game where you're betting high or low (you can try some dice strategies to further increase your luck). The target numbers for both are based on the Win Chance percentage. You can reduce the house edge to as little as 2%. For example, if you want to play with a Win Chance of 98%, you only have to be higher than 199 or lower than 9,800. However, if you want to play for a Win Chance of just 5.2%, then the low has to be lower than 520, and the high has to be higher than 9,479.
The lower the Win Chance, the more you can win. Payout ranges from 1.0102x to 495x your bet amount. The best DuckDice strategy is to pick a Win Chance that will give you the best odds for pulling consistent wins. Somewhere between 85% and 95% is a good pick for those wanting to reduce variance. For those wanting to score big wins, you want a low Win Chance.
There is a secondary dice game call Sniper. For this game, you set up a game with other players where each player contributes to a prize pool and then starts shooting for a target number. There's a time limit to hit the target and the player that gets the closest to the target in the established time limit wins the pot.
The lottery game is similar to any Pick 6 or Powerball games you've played. You pick 5 standard numbers and one jackpot ball. If you get three or more numbers, you win a cash prize. Get all 6 numbers, and win the $100,000 grand prize. Tickets can be purchases or won in chat. Lotteries are held once a week.
Software Features & Graphics
The DuckDice site has more of a basic design that you've come to expect from single-game Bitcoin gambling sites. Overall, the graphics on the site are average. However, the site runs very smoothly and quickly and allows for lightning-fast gaming. You have features for autobetting and Flash betting available. It's not as impressive as Bitcoin online casinos, but it fits the bill for a cryptocurrency dice site. See what we did there?
However, there is one area where the site could be improved. Much of the site is written in substandard English, making some terms or bonuses challenging to understand. The site would benefit from having a native-English speaker redesign the website.
Account
DuckDice allows you several options for creating an account. If you want to register and play anonymously, create a username, and enter an email address. After agreeing to the terms and conditions, click Register to create your account. You can also create your account using Google, Twitter, Facebook, Discord, Telegram, VK, or LinkedIn.
After creating your account, you should set up a password to ensure you don't lose your account. Two-factor authentication is also available for accounts.
DuckDice Imagery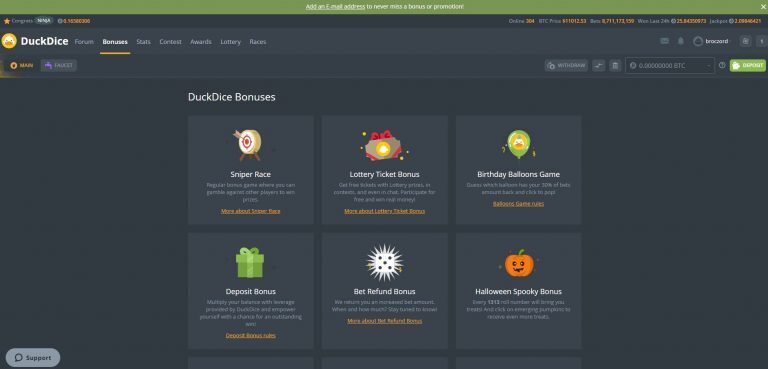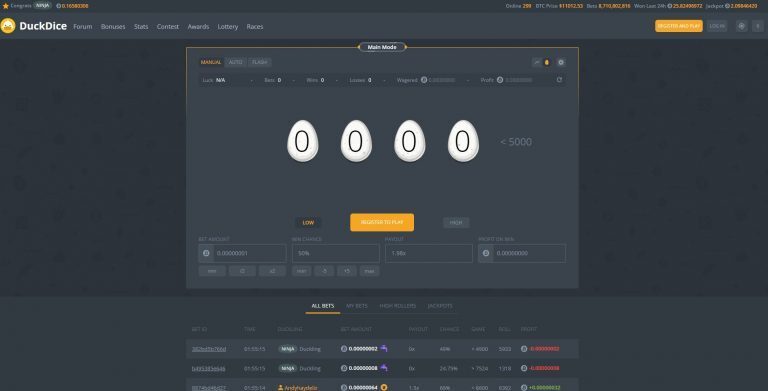 Withdrawal & Deposits
Whether you prefer to play with Bitcoin or Altcoin, you can deposit at DuckDice. The primary deposits accepted are Bitcoin and the following:
Litecoin
Bitcoin Cash
ZCash
Ripple
Dogecoin
Stellar
Dash
Tether
Monero
Ethereum Classic
Bitcoin Gold
However, if you have another form of crypto, odds are you can deposit with it. Just select Altcoins under Deposit and choose from over 100 Altcoins. These currencies will be converted into one of the primary coins supported by the site. There is a fee for converting these altcoins.
Except for converting Altcoin, there are no fees for standard deposits. However, if you do not want to wait for confirmations, you can opt for Instant Deposit for a fee. The fees vary based on the crypto selected and are displayed before you make the deposit.
When it's time to cash out, you can cash out using one of the primary currencies listed above. There is a fee for withdrawals. You can learn more about the fees for each crypto on the website.
Bonuses & Promotions
DuckDice has numerous bonuses and promotions available to players. If you want to start playing without depositing, they offer a faucet where you can get 15 satoshis of BTC. You can also get free coins by participating in the chat.
There are numerous bonuses available to depositing players. A deposit bonus is available, but the exact amount varies. It is not posted, but players will be notified via email when a deposit bonus is available. Other bonuses include New Year's Bonus, Christmas Celebration, Birthday Balloons bonus, Lucky Bet bonuses. Details of these bonuses are available on the website, but the English is somewhat poor. You may want to contact customer support for more information.
Mobile Games
DuckDice is fully mobile-optimized, meaning all you need is a mobile web browser to start playing on the site. The website supports all platforms, including Mac and Linux, with screen resolutions up to 1980×1080. Like with most sites, we recommend using Chrome or Safari for the best results.
Support
There are several options for support at DuckDice. They have an extensive FAQ covering most sections of the site, and the topics go quite in-depth. Next, their Help Center gives you additional help on various topics ranging from account security to the website's latest bugs. There is a community support board, but it is seldom used. Finally, you can contact DuckDice support via the request form on the website or through live chat.
Frequently Asked Questions
Absolutely! You can deposit with over 100 different Altcoins.
There are no fees for deposits provided you're OK with waiting for the required confirmations. Otherwise, there is a fee for instant deposits. There are fees for withdrawals, and it varies based on the currency used.
Indeed! DuckDice offers a faucet that will give you some satoshis to use in the faucet game. You can try and run that in the faucet dice game. However, the main game requires a deposit.
Yes. You can register and play anonymously. However, you should set an email for greater security.
Unfortunately, they do not.
Prizes range from $1 to $100,000. However, everyone that plays will win at least a free ticket for the next week's lottery draw.
It is! Just go to the site with any mobile browser and start playing immediately.
Yes! DuckDice has a license with Curacao's government and offers the chance to modify the Win Chance, lowering the house edge drastically.