FairProof Overview
FairProof is packed with unique games and exclusive bonuses that are certain to enthrall cryptocurrency gamblers, regardless of betting preferences.
FairProof is not a typical Bitcoin gambling website because instead of featuring the most common games in the market, it offers unique and simple games instead. The great thing about this platform is that apart from Bitcoin, altcoins like Dogecoin, Bytecoin, Darknote, and Monera are also accepted here.
This Bitcoin casino was established in 2013, and has since then promoting its distinct games that are a breath of fresh air. It prides itself on fairness and complete anonymity, so players who prioritize these aspects are assured of satisfactory experience on this site.
FairProof Bitcoin Games
FairNums, FairCards, and Roulette are the games hosted on FairProof. If you instantly notice the odd one out of the three –yes, it is the Roulette—then you might be already wondering why a classic casino game will be featured on a Bitcoin lottery platform.
Playing the Roulette game here will reveal the answer. This game is not exactly what its name suggests, rather it is a game based on the wheel of fortune.
On another note, the other two Bitcoin lottery games look promising, but it is difficult to ignore the resemblance of FairNums' mechanics with those of a Bitcoin dice game. Thus, if you are looking for a truly unique game to wager on, you will be better off playing FairCards.
Meanwhile, there is absolutely nothing to worry about because these games are provably fair. They, however, post a relatively high house edge, which is at 1.9%. Compare it to the house edge of the Bitcoin dice websites then you will see the significant difference of 0.9%. With a high fee, it is important to note that 10% of the brand's profits are given to the Electronic Frontier Foundation.
Software Features & Graphics
In spite of being powered by a proprietary software platform, FairProof has designed its platform to be one of the most attractive websites in the market. Its structure is fairly simple and yet it appeals to the senses because of the fun color scheme and detail placement, which are unique for each of the games.
Account
What makes betting on FairProof more encouraging is the fact that this platform is completely anonymous. No personal details will be ever asked. The account is automatically created for you upon the initial visit and you will be given the option to logout, provided that you have already taken note of the permalink for your account.
FairProof Imagery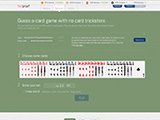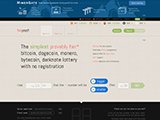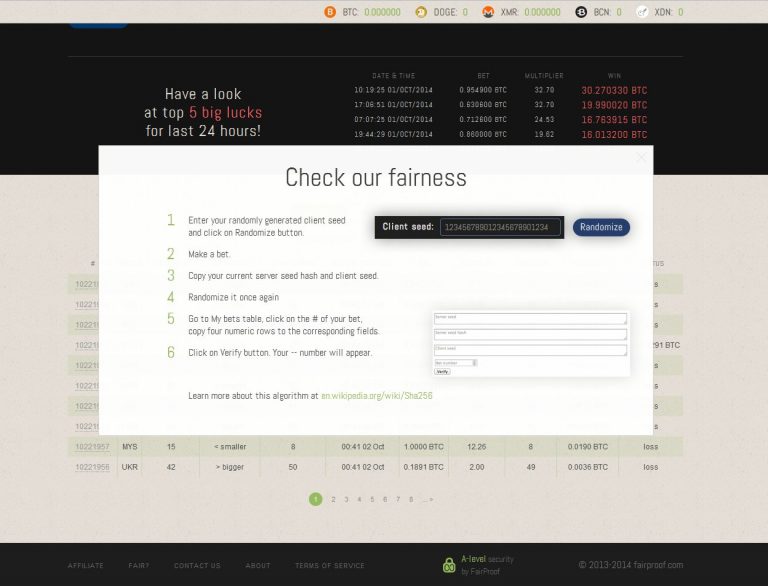 Withdrawal & Deposits
When it comes to depositing and withdrawing, you are bound to have an easier time because payments are done instantly. After all, the entirety of its network is powered by cryptocurrency.
Bonuses & Promotions
FairProof awards a No Deposit Bonus of 0.0001 BTC and it doubles your deposit of at least 0.5 BTC. However, these two offerings can only be had once. For the high rollers, on the other hand, a Bad Luck Bonus that recovers 20% of the loss will be at hand if and only if the balance has at least 1 BTC.
Support
Bettors may contact FairProof's customer service department through the contact form posted on the site. It would be helpful if the site will add more ways to assist their customers.