GoldenTowns Overview
Build your own incredible town and get your pockets ready for real gold! GoldenTowns is a free Bitcoin gambling site which pertains to an exciting experience of town construction, political and military simulator. Though there are games online similar to this, you will never find a gaming platform where you can exchange your virtual gold for real cash or for original 24k gold.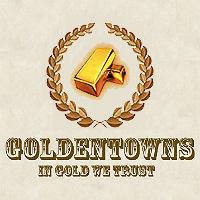 GoldenTowns is actually based on a paper published by ANNO1777 Labs CEO, Mr. Vlad Christian which describes a 'deflationary economic system' wherein the sums of digital currency is fixed and covered in 100% real gold. In fact, this is 'the first game 100% backed up by real gold'. Distributed gradually in a secured pace by players, this gaming platform contains limited amount of virtual gold, 100,000 GTC (GoldenTowns Coins).
To get started, all you have to do is make an account. Expect a full anonymity since the details required are just limited to the username, email address, and password. After successfully signing up, you are ready to build your own town and reap amount of gold. You will never feel left out in their portal since there will be guides to help you as you go along the way. This contain information on how you are going to build a town wherein you will be required to fight, trade, as well as take part in the political life – step by step and crystal clear.
In terms of gaming platform, nothing much can be said about GoldenTowns' except that it offers an excellent one. The graphics are crisp and brilliant with straight-forward and fast main browsers. Actually, you will find it hard to turn away once you have test the waters as your eyes will sure be enticed by everything you will see. On the other hand, you can also get in touch with other players to air your thoughts out or exchange strategies with them in the 'game messenger' they have provided.
The most important thing to take note in this game is to earn more gold as you play. Imagine the advantage of not risking any of your money as you can get started with this game for free. Though this is a free online game, you can make the most out of by exchanging the virtual gold you have acquired for real money. As a matter of fact, a gold mine in your town can generate 0.5 gold coins per 24 hours and you can turn it to Euros based on the current exchange rate.
GoldenTowns is definitely the most brilliant game you can find online. By risking nothing, you are bound to have everything – with gold. All you have to do is know how to make an excellent town by continuously upgrading your features and most certainly, you will find it hard to walk with your pocket heavy with gold. Where else can you read more about GoldenTowns? Check out all the Bitcoin gambling sites available.