Predictious Overview
Predictious offers a well-designed prediction market that enables Bitcoin users to place bets and to earn from correct guesses.
Betting on how sporting events turn out is old hat in the gambling world. What is different with Predictious is that it is not just about gambling events, instead it lets people bet on everything under the sun, ranging from entertainment events like whether who wins an award to politics like who will be president. This site makes betting on bitcoin easier than ever, for users of all experience and knowledge.
Based out of Ireland and operated by Pixode, Predictious has been in business since 2013. Using proprietary software, means they do not need any license since it falls in the grey area of cryptocurrency prediction markets, which are not regulated in any way (to learn more see our page on Bitcoin Legalities).
Site Details
| | |
| --- | --- |
| Established | 2013 |
| Licensed | N/A |
| Bitcoin Friendly | Yes |
| Bonus Type | First Deposit Bonus |
Predictious Games
Prediction markets work the same way as the stock market. Players get to buy shares on whether an event will happen and it will payout if it does. For example, on Predictious, people can buy shares for 3 mBTC that a person will win an award. There is a payout attached to the share and it can go up or down depending on the circumstances. The purchase price of shares can also fluctuate. People can buy and sell their shares until the event is decided. If the prediction is right, there is a payout. If the prediction is wrong, people do not get any money.
Software Features & Graphics
The Predictious site is well-designed and people can easily navigate through it.  With a click, players can move to various sections, with clear prices on the shares. The standard payout is 10 mBTC, while share price will fluctuate. To buy a share, people can just click on the event and they can quickly acquire as many shares they can afford.
Account
Signing up for Predictious is actually pretty easy. People will need a Google+ account and when they want to create a account they will be asked to link the Google+ account. Just give the site the appropriate permission and you will be signed up for Predictious.
Predictious Imagery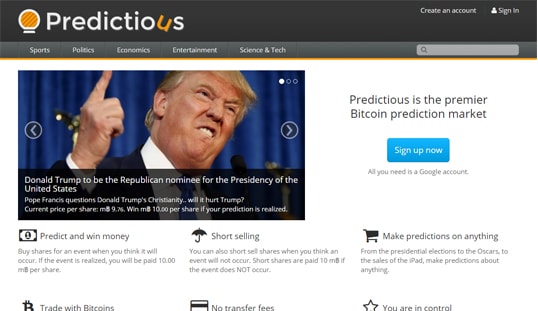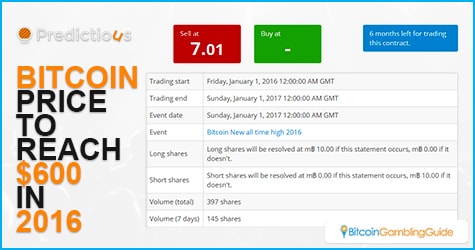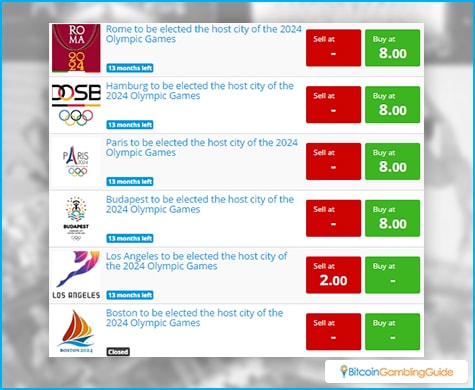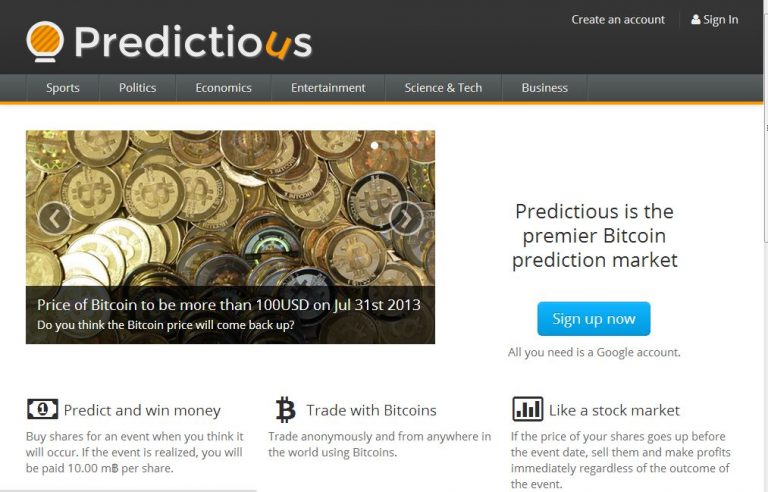 Withdrawal & Deposits
Deposits and withdrawals are all done in Bitcoin. This means transactions will be quick and easy. There are no restrictions, but it should be noted that a lot of the deals are in mBTC format.
Support
The site only has a contact form for those who have problems with their site. There is an FAQ, though, and the admins will respond quickly as soon as they receive your message.
Helpful Links