Roulette'm Overview
Bitcoin Roulette is played with more fun and excitement if it is packed with too good to miss features and offers. This is what actually Roulette'm provides. It is one of the newest Bitcoin roulette sites that bring simplicity to excellence by giving away tons of boons and unique highlights to bring your every spin of BTC Roulette to the next level.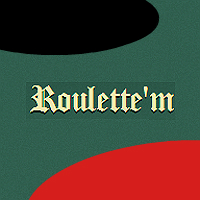 Spin and Win Anonymously
You don't have to make an account in this Bitcoin gambling site to get started. You just have to provide a username and in just one click, you can immediately start spinning the wheel for some fortune. Also, do not forget to view and save your generated password so you can still access your account even when you're using a different computer.
Provably Fair and Advantageous Roulette Game
Fairness and transparency are never a question at Roulette'm. This site is 100% provably fair so you can be assured that all winning results are authentic. You can prove this yourself by using the seeds and secret hashes they show publicly at the end of the day. Furthermore, they offer a European Roulette that is based on 'La Partage' rule making it possible for them to give a low house edge of only 1.35%.
Deposit and Withdraw Almost Instantly
One of the features that players love the most about Roulette'm is prompt payment transactions. After sending your deposit to the wallet address shown, you just have to wait for a few seconds to receive a network confirmation and it will be credited to your account automatically. On the other hand, payouts are sent immediately after your request has been approved.
Enjoy the 1000 Satoshi Faucet
You will never be left down and out in this Bitcoin gambling site. They have a good Bitcoin faucet you can make the most of to spin more and win even more. All you have to do is enter the captcha code shown correctly and 1000 free satoshis will be credited to your bankroll. The faucet gives free coins every 60 seconds so you can keep calm that your balance will never be empty.
More Features to be Unveiled Sooner than Later
Since this is a new BTC roulette site, you can expect of more highlights to be launched as soon as possible. The features considered for the near future are Multiplayer Tables, LeaderBoard, SSL, Statistics, Outcome Verification, and more.
In general, Roulette'm is a good place to wager and enjoy your Bitcoins by playing Roulette. It offers tons of boons you must never dare miss. In addition, it has gathered positive comments and reviews from its satisfied players that keep on coming back for more. Therefore, if you want a premium Roulette spinning action, there's no place to go, but Roulette'm. To know more about this Bitcoin gaming platform, read more here.