Satoshi Mines Overview
Land safely and beware of the landmines – this is the main goal you must achieve to earn bitcoins in Satoshi Mines. This game offers a unique take on the traditional version of Minesweeper where you actually mine satoshi. Like most Bitcoin gambling games, it's easy to play and has very simple rules.
Satoshi Mines Details
| | |
| --- | --- |
| Year Established | 2013 |
| Minimum Bet | 30 bits or 0.00003 BTC |
| Maximum Bet | 1,000,000 bits or 1 BTC |
| Minimum Withdrawal | 100 Bits or 0.0001 BTC |
| Deposit Time | Instant |
| Withdrawal Time | Instant |
How to Play the Game
You will be given a board with three hidden mine tiles. Your job is to uncover a safe tile so that you will get the "next tile worth" which corresponds to a certain amount of bitcoins. However, if you uncover a mine, the game is over and you will lose all the bitcoins you earned. There is a silver lining – you can cash out anytime you want once you've reached three deposit confirmations.
Features: Deposit Info and Graphics
Satoshi Mines accepts only one payment method and it's – you guessed it – Bitcoin. Because this is a BTC-only game, the transactions are fast. The only language offered on this site is English, but the rules of the game are easy to pick up. As aforementioned, the goal of the game is to uncover tiles safely while avoiding landmines. No, really, that's it. Simple, right?
The first thing you have to do is deposit bitcoins to their wallet address provided. Once that's taken care of, hit the refresh button and choose a bet. The minimum bet is 30 bits per round (B0.00003). The maximum bet is 1,000,000 (B1).
Furthermore, they also offer features like their bankroll which allows you to play forever with a single large deposit. QR codes are also available so the deposit transaction is swift from mobile bitcoin wallets. But, the real highlight of the game is that Satoshi Mines offers better odds as you can win 13% by landing safely on your first tile and can win up to 1800% in addition to your bet.
In terms of graphics, this Bitcoin gambling site uses a combination of black and green to keep things simple. There are no flashy images to distract you. The game platform isn't complicated and navigation is a breeze. All you have to do is aim for the green checks because if you uncover a red tile, your game is over and you'll need to try your luck again.
Satoshi Mines Imagery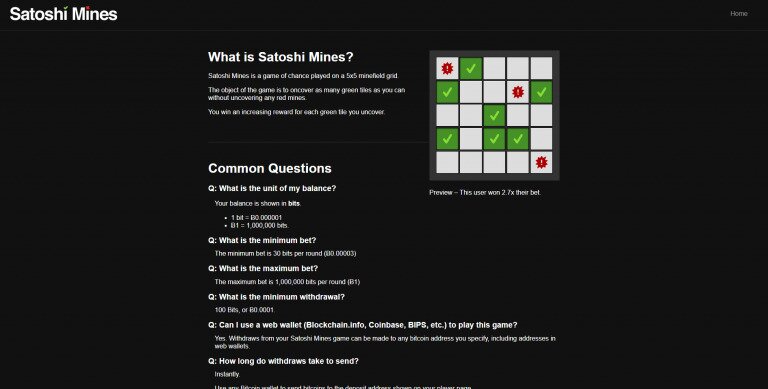 Is Satoshi Mines Provably Fair?
To prove its validity, "game hashes" are used to show that each of the tiles are chosen at random. When a new round starts, three of 25 tiles are selected as mines. The three mine tiles (displayed as numbers 1-25) are paired with a random string produced by the server are hashed using SHA256. You'll be able to see the result of the hash before you pick your first tile. To further authenticate fairness, once the game has been completed, the "three-number + random string" equation is revealed.
Indeed, Satoshi Mines is an incredible bitcoin gambling site. Sure, it offers only one game but the thrill of the uncovering tiles, plus the amount of possible earnings you can score will sure make it hard for you to turn away.
Frequently Asked Questions
Satoshi Mines does not offer any welcome bonuses but they do have some of the best odds in the Bitcoin gambling space. We do have a list of the Best Bitcoin Bonuses that you can check out if you're looking for online BTC games that do provide their players with rewards.
Satoshi Mines lets you test out the game to see how it works for free. This gives you the chance to poke around and get the hang of it before you play for real money.