Satoshi Dice Overview
Satoshi Dice Bitcoin game emphasizes the three major features they have on its popular dice game such as off-chain betting, instant payouts, and provable fairness.
"Intelligence and concentration is the key to win Bitcoin." This is seemingly the first thing you will have in mind after seeing SatoshiDice. Indeed, this platform is a decent Bitcoin gambling site that offers great deals: from its cool dice game, variety of languages offered, easy ways to start, and up to its transparency and amazing graphics.
Launched in 2012, it was formerly owned by Erik Tristan Voorhees who sold the site to an undisclosed buyer in 2013. The operations are currently based in Dublin, Ireland.
Satoshi Dice Details
| | |
| --- | --- |
| Established | 2012 |
| Licensed | Curacao |
| Minimum Deposit | N/A |
| Cryptocurrency Accepted | Bitcoin Cash |
| Devices | Desktop, Mobile, Tablet |
| Languages | English |
Satoshi Dice Pros & Cons
Pros
Provably fair
Full anonymity
No registration required
Easy to play
Cons
US restrictions
No bonuses
Not mobile compatible
No live chat
Satoshi Dice Games
Satoshi Dice are one of the pioneers of Bitcoin dice games, so it stands to reason that their key offering is Bitcoin Dice. There are two key ways of playing: on the main site, using your computer or mobile phone, or gambling on the blockchain using your Bitcoin wallet. This blockchain based betting game is one of the pioneers in bitcoin gambling, and has earned its reputable name by providing top quality online gaming services.
Playing on the main site is simple and easy to do, with clever sliders for you to adjust Satoshi Dice bet amounts and win chance. This will then show you your potential profit on a winning bet, before choosing a number between 0 and 100, then you hit roll the dice. Gambling on the blockchain is a quick option for those who simply want to use their Bitcoin wallet. Send your bet to one of the wallet addresses and you'll be instantly credited if you win.
Mobile Games
SatoshiDice is completely mobile friendly and you should have no problems accessing the site on your mobile device. You can also gamble on the blockchain using your Bitcoin wallet, if this is something you have set up on your phone. The ease of use means that you really can play on the go!
Software Features & Graphics
The SatoshiDice software was first created by a Bitcoin fan back in 2012. The software was unlike anything the world had ever seen before, particularly thanks to the provably fair system that was created. The creator of the site then took to Reddit in order to sell the software, with the new owner refining it and turning it into something rather spectacular.
The graphics and user interface are fresh and appealing. But it's the provably fair system, including the option to verify the previous roll, that has appealed to the many Bitcoin gambling fans. It was this software and system that led the way for dozens of Bitcoin Dice and Casino games in the future.
SatoshiDice Imagery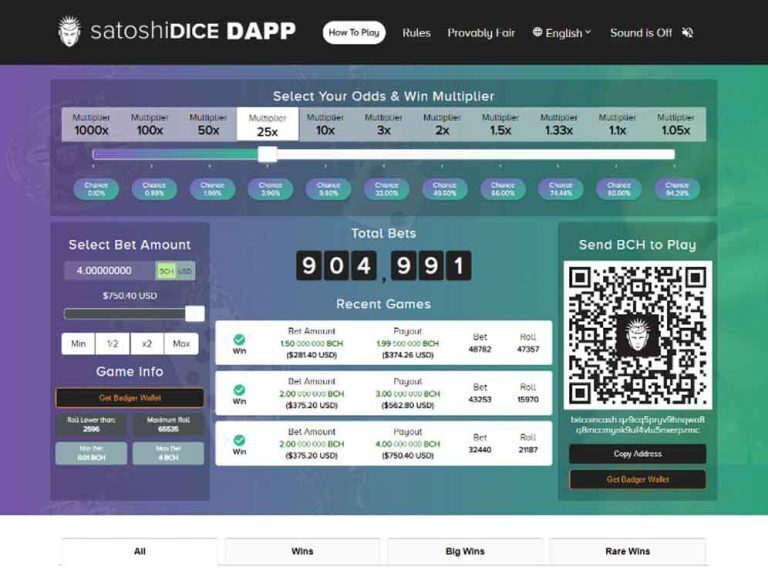 Withdrawal & Deposits
Depositing and withdrawing is simple any other bitcoin transaction and for that matter, extremely fast. When you're logged into the site you'll be given a wallet address to send Bitcoins to your balance. Deposits will require one confirmation before they're added to your balance, but this is normally pretty quick, and includes standard transaction fees, based on where you're sending from.
If you win anything at SatoshiDice then you'll find the winnings in your account in less than 30 seconds! In some cases, it can be less than five seconds. You are allowed to withdraw winnings at any time and these are processed immediately. You'll find that transactions are usually confirmed in the blockchain within a maximum of 20 minutes.
Bonuses & Promotions
One of the biggest draws to Satoshi Dice is their free Bitcoin faucet. Members logged in can check the Bitcoin faucet every 60 seconds to see if they're a winner. The prize? 200 Satoshis. At they give this out every 60 seconds, there's definitely a chance to nab yourself some free Bitcoin.
Account
Accounts at Satoshi Dice used to be secret, but there have been recent changes meaning that players must register an email address. Signing up is extremely easy, however, and very few details are actually needed. As long as you have an email address and a Bitcoin wallet then you're ready to get started at Satoshi Dice.
Support
There is a comprehensive FAQ guide on the site and a walk through of how to play when you sign up. You can also email the support team at any time for a quick response.
Helpful Links
Frequently Asked Questions
Yes, players from the United States are more than welcome to sign up for an account and play at Satoshi Dice. Moreover, Satoshi Dice does not require Know Your Client verification to get started. All you need is a cryptocurrency wallet address and the ability to click around the website to choose your odds and multipliers.
On the right-hand side of the homepage, you'll see a QR code enabled Bitcoin Cash-friendly Satoshi Dice address. You can copy and paste that address into the Send field of your chosen cryptocurrency wallet. Once your deposit is confirmed on the blockchain, you'll be able to wager on the next roll of the dice.
Satoshi Dice operates on a decentralized application. There is no need to register for an account. You're placing your wagers based on your wallet address. This makes it really easy to begin playing since all you need is a bankroll attached to your Satoshi Dice address.
Satoshi Dice allows you to wager on whether or not the role of the dice will be above or below a lucky number. Deciding how to wager is as simple as considering the multipliers that are in effect. Choose a multiplier and place your wager. The higher your multiplier, the less likely you are to win on the next roll of the dice. Or, choose a lower multiplier and win smaller amounts more consistently.
Satoshi Dice is totally legitimate and safe to use. The site operates out of Dublin, Ireland, and was originally owned by an early cryptocurrency investor who now runs a major cryptocurrency exchange. Satoshi Dice has been used by gamblers wagering on provably fair outcomes since 2012.
Satoshi Dice is a provably fair, Bitcoin-friendly dice game. The outcomes of each dice roll are publicly displayed so that you can see them for yourself. Every roll gives you the chance to win more bitcoin. The interface is easy to use and has been around for a long time.