Seals With Clubs Overview
UPDATE: Seals With Clubs became the largest Bitcoin-only poker site until its unexpected closure. It registered almost 100 players on the average and is the most popular poker room online when it comes to Bitcoin gambling.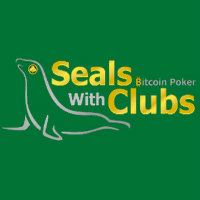 This Bitcoin poker platform offered a variety of tournaments, sit-n-gos, and freerolls, enabling bettors to play Texas Hold'em or Omaha with or without a limit.
The only digital currency that is accepted here was Bitcoin. Despite this limitation, however, Seals With Clubs still managed to emerge as the best poker site for Bitcoin betting.
Apart from its excellent online poker services, it also offered a rakeback program that was well-received by the players from different parts of the world.
While it seemed as if nothing can ever stop this platform from being a premium in the industry, it suffered from unfortunate circumstances in 2015.
Seals With Clubs has already shut down and will no longer be providing any kind of poker services to its customers. As of writing, its players who still have remaining funds in their accounts are advised to withdraw as soon as possible.
Given that there are no chances for this website to resurrect, the duration of the withdrawal period is still uncertain.
The closure, on the other hand, has led its former chairman, Bryan Micon, to set up a new team and create Bitcoin poker 2.0 site based on the SwC 2.0 platform. The new site will be called SwCPoker.eu, but details of its launching and services are yet to be known as of writing.
****
Seals with Clubs is a bitcoin poker brand that evokes an enigmatic feel by the time you enter their website. This mysterious thing is not just a mere coincidence as it foreshadows who the operators of this site are since they choose to remain anonymous. It has been building their name since August 2011 and is uses the Poker Mavens by Briggs Softworks as in terms of Software. In this site, the basic and only language available is English. Moreover, it offers only one variation of the game poker, the most popular Texas Hold'em Poker. In terms of payment method, the only payment method accepted is bitcoin since they transact their business only with the latter.
To get started, you can open an account by setting up a user account. In this process, you must fill-in a short form requiring your username and password. Other than that, the rest is optional. In terms of e-mail, it is okay if you wish not to give your e-mail address however, if you forgot your password, you will not be able to retrieve it again. You can also give credit to the one who referred you in this site by filling-in the box after e-mail the username of that person.
Seals with Clubs also offers three ways to play their online poker. First is by the PC Client which works by downloading and installing the program in your computer. They claimed to have offered this program packed with features for the expert players but at the same time simple and easy use for the novice players. Second is the Browser where you can play their bitcoin poker online. And last but not the least, is the Android App, where you can enjoy their Bitcoin poker using your android gadgets.
In terms of the graphics, Seals with Clubs offers a fabulous one as the enigmatic theme of the site can arouse the curiosity of the player to discover those secrets; hence, try what they offer. The colors of black and green combined with shades of blue are definitely a good combination as it makes the site attractive at the same time eye-friendly.
Aside from that, they also offer a complete package in their website making it user/gamer friendly. Everything that a gamer needs especially the novices is clearly offered; from the ways or options to experience their online poker. Every option is completed with details, not only that there also screen shots  of how the main lobby, table, Hold'em lobby, as well as the cashier looks like; hence, making it clearer for the players to decipher what are offered in front of them.
Moreover, every possible question that a player might want to ask has already been answered in their Seals FAQ together with the complete information about bitcoins in their Bitcoin FAQ. Read more about Bitcoin gambling. Card Room rules are also clearly stated chunked on several categories to make it more comprehensible: Chat, Cash Game Rules, Tournament Rules, as well as Tournament Structures. In terms of the poker room design, the site offers a good one as any player would have a feel that the real game and not a virtual one are offered in front of them. Furthermore, the chat feature in the poker room made the feel more realistic and convenient compared to other sites.
The only bane to this site is that they only offer Texas Hold'em Poker, it might be better if they have offered more variety of poker like Pai Gow, Hi-Low, as well as Five –O so that gamers have spectrum of choices to play with. But all in all, Seals with Clubs is indeed a good bitcoin poker site for both experts and novices poker players in terms of Texas Hold'em as they offered everything a player might want and need. Want to play Bitcoin Poker now? Read more about Seals with Clubs!
Alternative Bitcoin Gambling Sites