Wheel of Doge Overview
Wheel of Doge offers a fun, colorful wheel of fortune gaming experience made even more attractive with its compatibility with altcoin payments.
Wheel of Doge continues the fun and excitement of the classic wheel of fortune game. This time, though, it's made even more attractive with the colorful wheel and the iconic Shiba Inu image.
This betting site has been around since 2014 when Dogecoin hit the market. Developed around the time when everyone was copying Satoshi Dice, Wheel of Doge became a breath of fresh air. Using proprietary software, the site is operated independently by a Chinese team and is now optimized to cater numerous altcoins for payments.
Wheel of Doge Pros & Cons
Pros
Fun experience
Clean interface
Accepts altcoins through ShapeShift.io
No registration
Cons
No bonus
Single game
No live chat support
Dogecoin-focuses
Wheel of Doge Games
Wheel of Doge only has one game. Its namesake is easy to play and functions like the typical wheel of fortune game. This version still wholly relies on pure luck, so players who wish to increase their winning chances using skills may think twice before they start betting. Regardless, this game is definitely fun to play, and it even gives you the freedom to be in control by adjusting the chance to win and the desired jackpot amount. Making the game all the more worth checking out is its provably fair setup, but it may receive a few thumbs down for its 1.5% house edge. At the time when Bitcoin and cryptocurrency dice games feature a house edge even lower than 1%, Wheel of Doge's house edge can still be lowered.
Software Features & Graphics
The web design for the site is great. Everything is easily accessible and just a click away. All the information that a player needs is displayed on the main page and loads quickly. With proprietary software on board, this betting site is pleasing to look at, even more so to play on.
Account
Wheel of Doge players aren't required to register for an account. Instead, they are provided with unique URLs that must be used to access their account. You also have the option to personalize your account, but it can only go as far as changing your nickname.
Wheel of Doge Imagery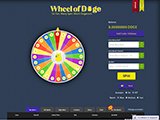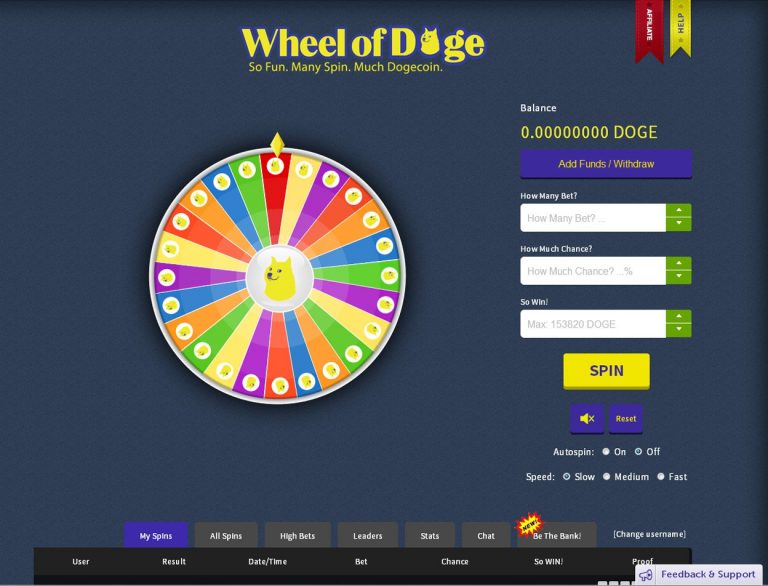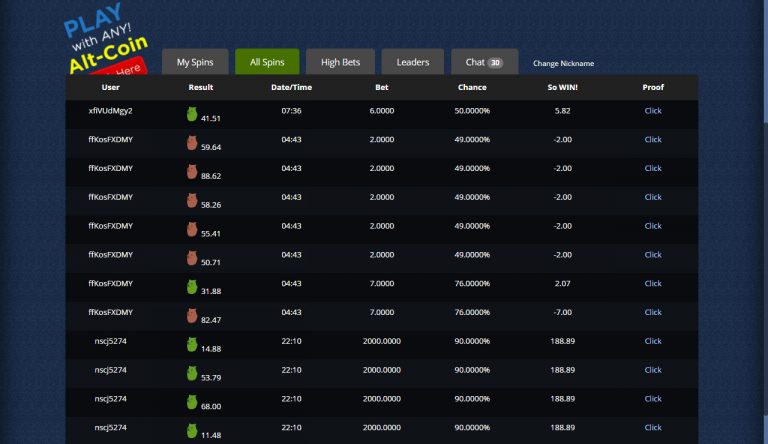 Withdrawal & Deposits
Wheel of Doge was initially made for Dogecoin gambling, but this site adapted to the changing market demands. This is the reason players who prefer to use Bitcoin, Litecoin, and other cryptocurrencies can now do so through the technology provided by ShapeShift.io. Also, the transactions normally require two confirmations that can take up to five minutes.
Bonuses & Promotions
The site does not offer any bonuses for players. The ease of use and high accessibility are compensation enough for players who are playing with the Wheel of Doge. The fact that it is quite fun should be another factor.
There are some ways to earn money from the site though. The affiliate program rewards players who have successfully referred friends while players can also invest in the site's bankroll, resulting in a cut from every player's loss.
Support
The main method for resolving any concerns is to contact the site operators by submitting a contact form with your message and by directly sending an email to the operators' email address. Any technical problems or difficulties with any transactions can be quickly resolved once they receive the message. On another hand, you can also try its live chat feature.