PokerStars Review Overview
PokerStars is the leading online poker site that offers a variety of poker games and tournaments available through excellent and friendly software.
PokerStars is arguably the top online poker room today. It has outsized its rivals over the years and this is reflective of the numerous tables and tournaments that do get filled almost all the time. The high traffic at PokerStars only proves how massive and popular this brand is until today.
It was in 2000 when PokerStars first opened its platform to online players. Not everyone is welcome here, though. The US players, for example, are restricted from playing real-money poker on this site. Regardless, it continues to be a leader in this field. All online gambling transactions at PokerStars are regulated by Isle of Man.
PokerStars Review Pros & Cons
Pros
Excellent software
High player traffic
Welcome bonus
Numerous tournaments
Cons
Competition is high
Bitcoin not accepted
PokerStars Games
PokerStars was once rumored to be accepting Bitcoin, but players wishing to do so would have to use either the US dollar or the euro to play poker. Even without Bitcoin on board, you're assured of an excellent time here, especially with the variety of poker tables on board.
Expect to find No-Limit Holdem, Fixed Limit Holdem, and Pot-Limit Holdem tables here, along with a roster of Pot Limit Omaha games. Other variations like Razz, Stud, Stud Hi-Lo, Badugi, and Draw Poker are also available on this site.
You're also in control of your game since you can choose which table size you prefer, as well as the stack size and the speed. Of the games on this site, though, it's the No-Limit Holdem game that takes all the spotlight.
Software Features & Graphics
PokerStars could not have been at the top had it not been for its excellent proprietary software. Although it's required to download this client, there's absolutely no regret for doing so. Games are smooth and fast to load and hardly any problems occurred with the software. It also comes with impressive features that are friendly to players. Another great feature of PokerStars is that its offers software compatible to different OS platforms. So expect it to work on computers running Windows, MacOS, and Ubuntu.
Account
All players must register their e-mail address and personal details as compliance to the KYC policies. This process can be quite stringent if you're used to the anonymous nature of Bitcoin poker and Bitcoin gambling sites. You also do this when you've downloaded the software and installed it to your computer.
PokerStars Imagery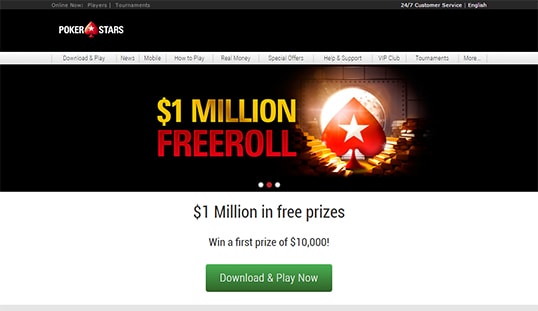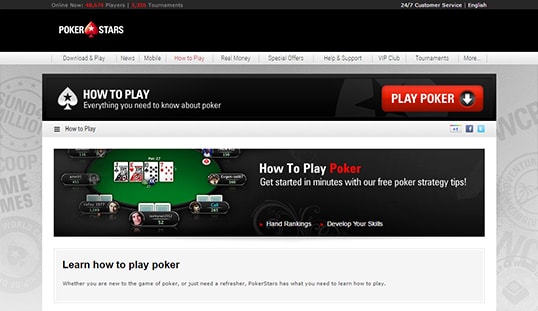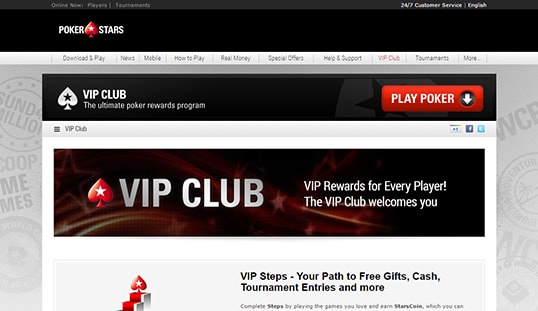 PokerStars Withdrawal & Deposits
Both US dollars and euros are welcome aboard, and the conventional payment methods are accepted. Credit cards would be your best choices, but e-wallets would prove to be just as good. Just remember that this isn't a Bitcoin poker room, so never expect payments to be delivered within hours. Regular waiting time of a few business days apply for PokerStars.
Bonuses & Promotions
PokerStars comes with a 100% welcome bonus that pays new players up to $600. This amount, however, is divided into three bonuses and is credited within the first 90 stations. This comes with a wager requirement, of course, like how all bonuses are. Every dollar or euro wagered will be included to your accumulated points for the VIP Club. The PokerStars VIP Club gives you a chance to win different prizes based on your level. Reach the highest level and get to enjoy bonuses worth $100,000. Other than these, expect to find special offers that give away impressive prizes and rewards.
Mobile Games
Another recent update to the software features of PokerStars is the availability of the software on the mobile platform. You get to play poker on smartphones and tablets running on iOS and Android.
Support
PokerStars offers impressive support that provides on-point services to its players. This is possible through the user-friendly software. You can email them your concerns directly to the support team or contact them via the form.