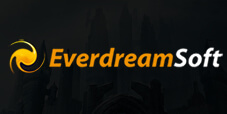 EverdreamSoft is a Swiss company that explores any kind of technologies that can be useful to the entertainment industry like Bitcoin and blockchain. It is a dedicated gaming company that is similar with Bitcoin casino software providers.
EverdreamSoft's flagship game is Spells of Genesis, which followed the success of Moonga. It uses the blockchain technology to change the way every player can own their in-game items. The team is even taking Bitcoin payment for its services.
Spells of Genesis
EverdreamSoft's Spells of Genesis is a trading card game (TCG). Unlike other TCG, this one is not a turn-based game. The gameplay of Spells of Genesis is similar to a reverse pinball game. Players receive a set of cards that they use to build a strategic deck against their opponents.
What makes the game stand out is its in-game economy. In a typical online multiplayer game, players receive in-game items like cards or currencies to buy more cards. Although the player owns these cards or other items, the maker of the game has full ownership of it.
EverdreamSoft makes it possible for players to fully own their in-game items by using blockchain technology. In a way, it made the items work like Bitcoin. The owners of the item are set in the blockchain and not in the game's server or database. Even if Spells of Genesis shuts down, you still have all of your in-game items. The items can also work in other games in the future.
Project ORB
The Spells of Genesis items use Project ORB. ORB is an acronym for ownership revolution on the blockchain. EverdreamSoft's Project ORB allows other game developers to create their own blockchain trading platform. It lets them create in-game items that use the blockchain technology.
EverdreamSoft's Project ORB makes it possible for players to trade their in-game items outside of the game. A Bitcoin casino can make use of this to create items that work in their games and services. Game developers can also look into this for their future online casino games.
Ideopass
Ideopass is EverdreamSoft's payment system that uses Bitcoin. What makes this system stand out is its social network feature. It allows sellers to promote their goods or services to possible customers in an interesting way. If a customer buys $100 worth of clothes from a store, the customer gets an achievement in their account or a free gift. This makes it fun for customers to use in their favorite shops.