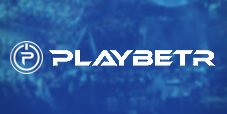 Playbetr is a social gaming community platform that allows people to play many of the best online casino games and make wagers on sportsbook matches with free chips. But more than being a social gaming platform, it is also a Bitcoin casino software provider for certain gambling sites.
Social gaming community
The main offer of Playbetr is its free social online gaming service for entertainment purpose. The site uses a unique gaming chip that you can use for different games and betting activities. These games use actual odds. The gaming chips try to simulate actual cash by limiting the amount you can get for free.  Unlike betting with fun currencies in certain casino games, there is actual tension and excitement when you use these chips to make wagers.
To get more chips, you can wait for the next day to get 10 more or buy more with actual money. The limited quantities are what make it more rewarding when you win more of them. The gaming chips are also a great way to practice or try out various games with simulated cash.
The other incentive of getting more chips is Playbetr's VIP program. The VIP program lets you earn points for every chip you bet or wagered. There are different levels of the VIP program. Higher VIP levels provide a bet-back and loss-back percentage on your bets for the games.  There are also other rewards that come with the VIP levels, such as random chips or free spins.
Most the games in Playbetr come from Betsoft Gaming and Ezugi. Betsoft is a popular Bitcoin casino game maker that specializes in 3D slots. Ezugi, on the other hand, offers live casino games. There are also a couple of provably fair dice games on the site.
Platform on Bitcoin casinos
While Playbetr offers a free-to-play social gambling experience, there are sites that use the same casino platform where you can bet with Bitcoin. This includes Betcoin.ag and Coinbet.ag. These Bitcoin casinos offer the same games and gambling activities. The Bitcoin casinos also make use of Playbetr's social features, such as the chat window.
Betcoin.ag even adopts the same VIP program as Playbetr where you can earn status points for each wager you make and the higher status levels provide better rewards. At Betcoin.ag, your rewards come as Bitcoin bonuses, bet backs, free spins, and other rewards that have actual cash value in them.
Brands under Playbetr