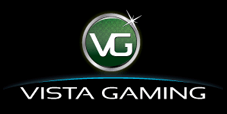 Vista Gaming is one of the longest running game makers for an online casino. The company has been in the business since 1996.
The many years in business allows the team behind the company to create award-winning software and gaming solutions.  The company has the service and games that will give operators like you Bitcoin casino software that has the edge over other gambling sites.
Vista Gaming services
If you are are looking to create your own casino, you can rely on Vista Gaming's services to make it work for you. This includes a useful back-end system that will allow you to check on the games and the overall workings of your casino in real time.
The platform from the company can create a complete report that uses a GMS web interface. This allows you and other managers to make the right decision for the casino. If you have your own customer's relations management system, it can easily become a part of the platform.
This system can see if someone is doing something suspicious with the casino. The platform will check what the players are doing and if there is a certain pattern in it. This lets you worry less about any criminals looking to target your casino.
The company has your back with its 24/7 customer support. There are also pro-active management features should anything happen with the platform.
Starting an online casino from scratch can take a considerable amount of time and money. This is why Vista Gaming is also offering a turnkey white labeling solution. This service gives you the whole package that comes with everything you need in a gambling site. You can immediately open your casino and start bringing in players in a short amount of time with this.
Vista Gaming software
A successful casino is one that offers different amazing games. One such game that you can expect from the company is its Bingo room. Many casinos, including BingoSKY, CyberBingo, and BingoFest have been using its bingo room for more than 15 years because of its features.
You can easily buy and create different bingo cards in the room. While you are waiting for the next bingo game, there is a mini-game section that lets you play slots or keno.  During the bingo session, the cards will highlight all the called numbers and will move the cards that are close to a bingo at the top of the pile.
Apart from bingo, Vista Gaming also has a rich variety of casino games. This includes video poker, slots, and table games.
Brands under Vista Gaming