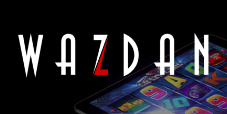 Wazdan offers tailor-made solutions that an operator needs to stand out in the industry. Whether you need high-quality games for your casino or to create a gambling site from scratch, Wazdan has what you need. This is why many cryptocurrency gambling sites trust the company to deliver solution optimized for fiat and Bitcoin casino software.
The team behind Wazdan has years of experience in making games and casino platform. The company also has the license to offer games with a tested random number generator mechanic.
Platform software
Wazdan's platform is flexible and customizable to let you easily pick the hardware and software that you will use for your casino. The platform works with games from other companies. These games are also easy to add to your site's game library, just like the case in Diamond World Casino.
Many operators are looking to draw in smartphone and tablet users to their casinos. More and more people are on mobile devices for a good part of the day. Tapping into the mobile market is sure to help you bring in many players.
Thankfully, you can get a mobile platform of your casino from the company. This platform makes it easy for your players to go to the online casino and play the games from a touch screen. The platform works on both iOS and Android devices.
Building a gambling site from scratch usually takes a long time to finish. If you are looking to start your casino in a short amount of time, the company has a turnkey casino to offer. This type of casino is a pre-built website that is ready to go once you sign up for it. The casino will come with its own help desk, affiliate program, and other marketing tools in one package.
Game software
Wazdan has your players back with its large variety of games like fiat and Bitcoin slots. The company has many slots with different themes and features. Each of the slots uses an attractive set of colors and beautiful animations.
If your players are looking for something familiar, there are blackjack, roulette, and video poker available. The company has six video pokers with different rules to make the game refreshing for long-time players. There are also specialty games that are outside of the usual casino games like bingo.
All of these games will work on a computer or on mobile devices. It is easy to add these games to your casino if you already have your own platform. The NMi ensures that the games have a real random number generator. This helps to give a player an ease of mind in knowing that he will get real results from the games.
Brands under Wazdan