Freeroll vs. play money
Most players confuse a freeroll tourney with a play-money tourney. If you're not too familiar with these two, then remember that a freeroll is better than play-money poker. It's also better to choose Bitcoin poker sites with more freeroll tourneys than play-money poker tourneys.
What you get from poker freerolls are free prizes. They are free because you won't have to pay any buy-in just to play. Play-money poker doesn't also require a buy-in, but you won't win anything even if you finish first. You will gain experience and hone your poker skills. But if you're after the incentives, then you're better off joining a Bitcoin poker freeroll tournament.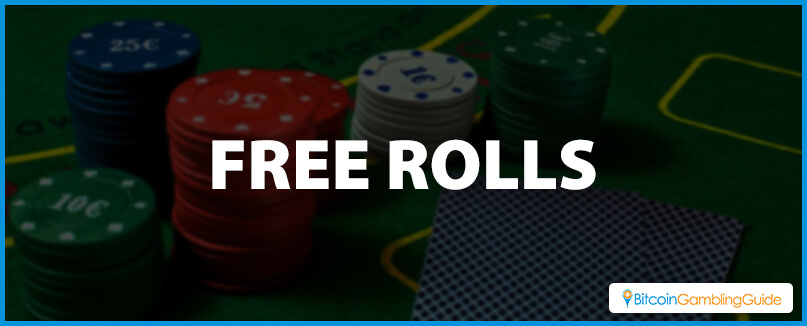 Freeroll requirements and rewards
The online poker room you play in dictates the rules for a freeroll. But the normal conditions that you can play freerolls online are through points or promotions.
If you need points to play in poker freeroll, then you must play more real-money poker games and tournaments. This way, you collect as many points as you can. What's great with this set-up is you increase your probability of winning real Bitcoin prize. At the same time, you earn points that you use for Bitcoin poker freeroll tournaments.
Promotions are another common way to enjoy poker freerolls. It's also common to see intense competition in Bitcoin poker rooms. That's why it is now a common scene to find sites offering freeroll tournaments as part of their promotions. If this is the case, then all you need to do is to satisfy the promotions' requirements. Do this and you'll be all set to enjoy the free Bitcoin prizes from zero buy-ins.
Bitcoin poker freerolls
Poker freerolls aren't new in Bitcoin poker anymore. In fact, almost all poker rooms that accept the cryptocurrency already offer their own set of poker freeroll tournaments. With a wide range of choices, you're in control of which Bitcoin poker rooms you'll keep coming back to. Daily freerolls are definitely an eye candy to every player. But weekly or monthly Bitcoin poker freeroll tournaments aren't half bad.
The most important factor here is that the leading Bitcoin poker rooms today already offer poker freerolls. This fact alone already makes playing poker with Bitcoin absolutely more attractive than it was before.
If you're ready to play poker, make sure to try the poker freerolls. Use your winning strategies and skills to beat others. Keep playing poker freerolls to build a bankroll. Use this to join tournaments and win big prizes.