Two big Bovada winners just took home a total of more than $900,000 from Bovada's slot games. What is more amazing about this story is how the two wagered less than $20 to get the slot's big payout. The two lucky players show that anyone can win it big at Bovada.
This sportsbook and casino, which also accepts Bitcoin players, offer a wide range of online slots and casino games on top of its action-packed sportsbook and horse races. Players will have numerous choices of Bitcoin slots and other casino games on top of the sport events on board.
Bovada, which moved the poker room to Ignition Casino last year, recently celebrated its fifth year in the business. The two largest wins this month make the celebration more fruitful for the players.
Paul D. – Food Fight
Paul D from Boston won $808,529.80 from the Food Fight slot from Realtime Gaming. What made him more than $800,000 richer on Jan. 14 was Food Fight's progressive jackpot. He won this by matching five puddings on the reels. The pudding symbol is quite rare. The fact that he was able to make five of the rare symbols appear with a bet of only $11.25 simply shows how lucky he was on that day.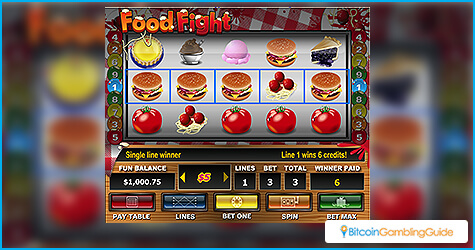 The Bitcoin slot's graphics and gameplay are straightforward to a point that many might consider Food Fight a vintage game. There are two bonus features in Food Fight. One is the bonus win that a player can get by catching three ice cream cone symbols on three reels.
The other bonus feature is the 'Food Fight' mode. A player can activate this by making a pie plate, whip cream, and cherry topping appear on three reels. Players throw five pie plates at five people during the bonus game. Hitting one of the targets will give a cash reward to a player and another shot at throwing a pie at someone else. If he misses one shot, the bonus mode ends and he collects the cash he won. There is a total cash prize of more than 3,800 coins if a player can hit four targets.
Rock H. – A Night with Cleo
Rock from Colorado got the big win of $127,331.38 in A Night with Cleo slot game from IGT. He got this big payout by winning the slot's Random Jackpot feature and with a $20 bet.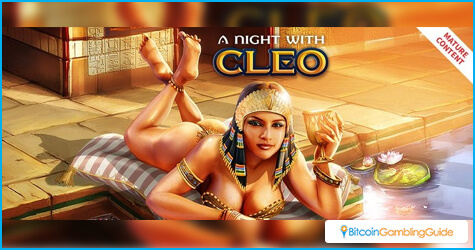 A Night with Cleo slot's bonus feature is the 'free spin' mode that grants a player with a number of free spins as well as a score multiplier of three for every payout he wins during this mode. This simple feature makes it possible to get a regular large payout from A Night with Cleo slot.
The main draw of the game is its 'gamble' or 'double up' feature. In A Night with Cleo', the gamble feature mode shows an attractive Cleopatra with two flowers on each hand. A player picks a flower on either of Cleo's hand. If he chooses the one that contains coins, he doubles his payout and gets to see Cleo remove an article of clothing. A player can choose to collect his winnings or continue risking it to win more coins as well as see more of Cleo's body.