In a market with tough competition among other businesses, standing out is a necessity to succeed. A Bitcoin gambling site can achieve this, though, through different ways like the games, the technology, or even the design. Blue Velvet Casino, a Bitcoin-operated gambling platform, opted to provide a vintage online casino feel in order to set itself apart from the increasing number of Bitcoin casino on the market.
Big Mike, a self-confessed nerd and a real-life business man, shared with Bitcoin Gambling Guide his two cents on the rise of Bitcoin gambling as well as his plans for his Bitcoin betting brand, Blue Velvet Casino.
Blue Velvet Casino. How would you best describe it?
Blue Velvet Casino is a cryptocoin gambling casino in a classic casino design from the 50s—the good old time. The casino started in Sept. 2013, and we, the team, made this casino. We were simple Internet nerds since the good old 56k modem.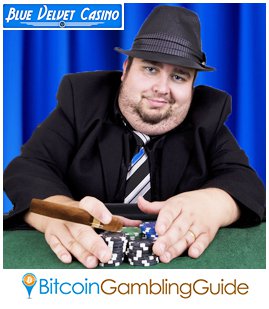 What are the qualities or features that make Blue Velvet Casino distinct from the other Bitcoin gambling brands?
We are working on a fully mobile website and maybe sometime will work on an app. We use flash at the moment because it's easy for the progger, but we will start an HTML5 version when it is ready.
What are the challenges you face by operating this business and brand?
The biggest problem is the high difficult and the general problems with security on the Internet or computer. We see a lot of bugs and super hacks at the moment that nobody is safe anymore. This makes it very hard to find trust in a cryptocurrency that is on your PC. We also have a very very very high quote of scams in the Bitcoin community.
Blue Velvet Casino has been in the industry for more than a year already. What will be your next move to improve in the market?
The plan is to provide developments, including multi poker, social game, and HTML5 games.
Since your business exclusively runs on Bitcoin, how do you perceive the rise of the Bitcoin gambling niche? How about the growth of Bitcoin in general?
I think Bitcoin will be a part of the "new Internet century" like Google or Facebook. There will always be a need and demand for gambling. I see Bitcoin as an investment in new high technologies. Maybe some technology can help us in the future to solve problems or bring us to another century's technology, which will eventually allow us to travel to the stars.
Very promising, indeed. Thank you so much, Big Mike, and all the best with Blue Velvet Casino!