Daily fantasy sports was extremely profitable last year in the US. DraftKings and FanDuel raked in billions while the hunger for daily fantasy sports betting was at its highest.
The problem, however, was that state lawmakers were not pleased by this. Starting with New York, several states have put restrictions on making wagers on fantasy sports leagues. This has cost the companies millions in lost revenue as fewer players are joining their daily leagues.
DraftKings and FanDuel are not taking all of this lying down. One of the noticeable moves taken is that FanDuel has decided to expand from beyond its US focus, following the launch of DraftKings UK. The company has taken steps toward giving UK residents a chance to join in the daily fantasy sports action—one that differs from what its rival already offers.
FanDuel faces troubles head-on
The FanDuel expansion into the UK is a natural response to the company's hounding by the US government. With fewer customers, the daily fantasy sports sites are feeling the pressure. It does not help that the big two were spending money like water to promote themselves.
All of their promotional efforts were undercut by the fact that their operations were stopped in many states. The main complaint that has been leveled against daily fantasy sports is that it is a game of chance.
Under the US law, online gambling, which is defined as playing a game of chance, is prohibited. Daily fantasy sports has managed to skirt the wording of the law by defining itself as a game of skill. This was the same approach made by online poker in its earlier days. However, it seems that excuse is not cutting muster with legislators.
The company also faces scrutiny on its operations. Last year saw the scandal of a DraftKings employee wining around $30,000 on FanDuel. The problem is that the employee used insider information to make the winning bet. This resulted in an uproar as many felt that this was unfair. The companies went under the microscope to ensure their processes were not being exploited and people were playing fair.
Taking the next steps
FanDuel opening a foreign market is a good step for the company. For one, expanding to the UK, with its recognized gambling laws, opens up a friendlier market than the confrontational US one. The Edinburgh-based company has always been on the verge of overseas expansion. As Nigel Eccles put it, they had the choice of either expanding in the US which was in their comfort zone or to have minor inroads into a new market. They had opted for the US approach, but with recent problems, they had been forced to go for opening a new market.
It will not be easy for FanDuel. The company is still holding off on making an announcement since their license application initiated in November last year is still in progress. Additionally, DraftKings managed to steal a march on them and is first on the market. It will be interesting to see how FanDuel will approach their market entry in the coming months.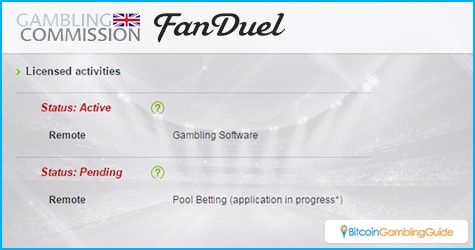 Making sure to stand out from DraftKings UK, though, FanDuel intends to offer daily fantasy sports services that are catered more for the UK players. This means the sports and matches more relevant to the European culture will be prioritized instead of featuring those that are popular in the US market.
With the license application still on hold and competition already looming, it becomes a question whether or not FanDuel would be better off adding another feature like integrating Bitcoin payments for all its markets.