Sportsbet.io gives everyone a chance to win amazing memorabilia from a rich history of sports, including football, tennis, basketball, ice hockey, and American football. The online sportsbook will give these prizes through its newly launched Twitter competition, and the first prize to be given away is a Barcelona shirt signed by Lionel Messi.
The Sportsbet.io Twitter giveaway includes several other prizes up for grabs. These are all available through the Twitter competition open to anyone interested. Sportsbet.io is one of the leading Bitcoin sportsbooks that has other promotions to give out to players. This includes its Real MoneyBack promotion for betting on major sporting events, such as the EFL Cup Final.
Win Lionel Messi's shirt
In order to win the signed Barcelona shirt, players need to follow @sportsbet_io on Twitter and retweet the promotional tweet to secure their place in the contest. This gives everyone a good chance at taking home this amazing memorabilia.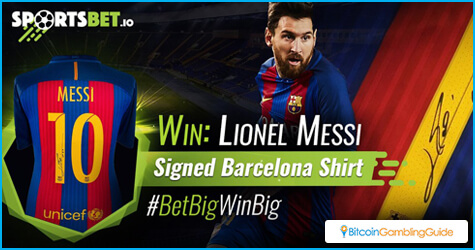 Lionel Andres 'Leo' Messi is the forward player for the Barcelona FC. Even with a growth hormone deficiency in his youth, the athlete went on to become a four-time World Player of the Year and FIFA Balloon d'Or awarded player. His strength is his total control of the ball which makes him a dangerous in the middle of the field.
Chris Uren, director of sportsbook at Sportsbet.io, said:
"We can't wait to give away these amazing prizes as a thank you to our Twitter followers, and the signed Lionel Messi shirt is a great place to start. Messi's goals have helped many of our punters to some impressive wins at Sportsbet.io in recent months, so we thought it was an appropriate first prize to give away. We've got plenty of other surprises lined up throughout the competition, including for the grand prize, which will certainly be worth winning. Head over to @sportsbet_io and join the fun!"
Messi's shirt is just the start of Sportsbet star-studded giveaways. The Bitcoin sports betting site is going to give out memorabilia for tennis, basketball, and other sports athletes in the future.
Sportsbet features and promotions
As one of the leading Bitcoin sportsbook website, Sportsbet, which yielded a successful first month after launch in 2016, has other promotions available for all kinds of sports bettors. This includes its Player vs Player prop bets. The feature allows bettors to predict which of the two opposing players will be the first to achieve a certain goal. This includes the first player to score a goal in. Players have the ability to build their player prop bets as well.
This Bitcoin sportsbook also offers a Real MoneyBack Promo for major tournaments. Bettors will get back the bets they lose in these tournaments if the score ends in a 0-0. To qualify, they would need to stake at least 5 mBTC and less than 200 mBTC.
With the Twitter giveaway and other promos, it is not impossible for Sportsbet.io to beat its record for the Rio Olympics last year.