YoCoin is no longer the cryptocurrency for the younger generations.
Initially developed from the Scrypt mining algorithm, this cryptocurrency underwent a major improvement as it now offers smart contract applications too. The peer-to-peer cryptocurrency clearly dropped its branding targeting the millennials and instead revved up to become the "premier internet currency with a much broader vision."
Dave Wilson, chief operating officer of YoCoin, said:
"Our initial implementation of YoCoin was great, but we wanted to take it much further. The new version of YoCoin provides a backbone for smart contracts, asset trading, real estate transactions, escrow services, income distribution systems, and an unlimited number of other uses that can all run as programmed without any downtime, censorship, fraud or third party interference."
With this development, companies engaging in business dealings can execute contracts and bonds without lawyers. Stock exchanges can now also operate without central clearing houses, while automated voting will be guaranteed to be tamper-proof.
From old to new: converting YoCoins
With the recent change into an Ethereum-based asset, the old YoCoins will have no use and must therefore be exchanged for the new YoCoin that operate on the Ethereum mother blockchain. Old YoCoin holders, however, are not on the losing end as they can conveniently swap their coins for the new ones at a 1:1 ratio.
All YoCoin holders—new and existing—also have the right to buy the asset in the event they are interested. The YoCoin team, however, has set a deadline for the coin swapping. Old YoCoin holders can also exchange their coins with new cones until Aug. 30 this year at 12:00 UTC/GMT.
Those who wish to swap their Scrypt-based YOC must fill out the form available and beat the deadline to ensure proper conversion from the old to the new YOC.
Issues from the past no longer a barrier
Before the major conversion to Ethereum, YoCoin suffered from major setbacks, including getting hacked that resulted in 466 BTC stolen, along with 11 million YOC.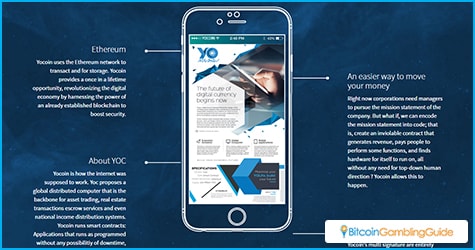 The YoCoin team was also bombarded with complaints and inquiries due to the issues with orphan blocks. Users experiencing problems then were advised to connect their wallets to the official fork to resolve technical issues.
---
Originally posted on YoCoin Transforms into an Ethereum Based Cryptocurrency Asset with Smart Contract Applications