CryptoBetFair Overview
CryptoBetFair is an online casino that delivers three entertaining, provably fair games designed for several cryptocurrencies other than Bitcoin.
Though there are many small Bitcoin casinos out there, only a few of them stand out. One of those that definitely catch the eye of a Bitcoin gambler is CryptoBetFair.
Launched in 2015, CryptoBetFair runs on proprietary software that makes it the match of any professionally run online casino. Aimed at delivering a great experience to any user of cryptocurrency, this casino welcomes more players who prefer using altcoins like Litecoin, Dogecoin, and Worldcoin, among others.
CryptoBetFair Pros & Cons
Pros
Accepts cryptocurrencies
Clean interface
Simple games
Quick registration
Cons
No bonuses
Three games only
IRC chat support only
Promo dependent on vouchers
Crypto BetFair Games
The site offers three games: dice, coin drop, and the cryptowheel. The dice game is the standard high-low betting game favored by many Bitcoin casinos. The coin drop is a pachinko game, with bitcoins dropping down from top to bottom. Finally, the wheel is a Wheel-of-Fortune type of game that determines the bonus you get. All games are provably fair, with the site even providing a verifier.
Software Features & Graphics
Despite not using the more popular and commercially available online casino software and game content providers, CryptoBetFair still manages to deliver an entertaining online gaming experience to cryptocurrency players using any kind off web browser. Moreover, there is absolutely no need to download and install any casino software client to play the games of this casino.
Account
Making an account with Cryptobetfair is ridiculously easy. All you need to do is to click on the "register" button and give a username, password, and your first pet's name as a security question and you can begin. You don't even have to give your email address.
Imagery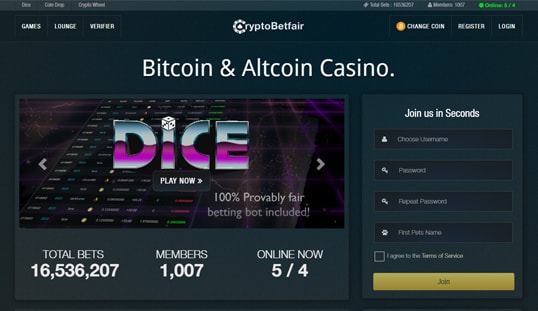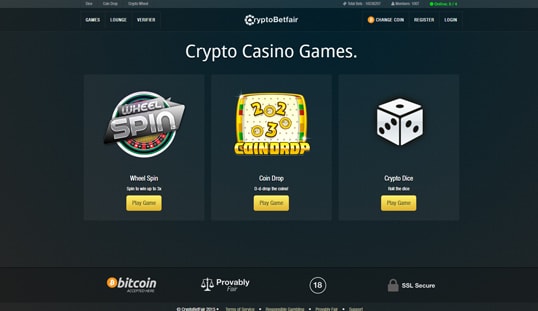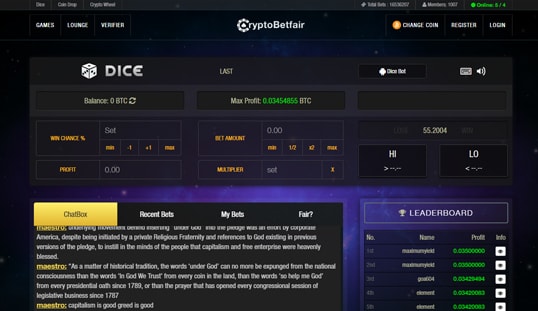 Withdrawal & Deposits
Although Bitcoin is the currency of choice, the site also offers support to a wide range of cryptocurrencies. Just click on the change coin tab and you can shift to Litecoin, Bumbacoin, Dogecoin, Startcoin, Mincoin, Worldcoin, Skeincoin, and Triangles.
Deposits are made by sending crypto from your bitcoin address every time it needs to be done. A 0.0005 BTC or its equivalent is the minimum deposit. Withdrawals are done by giving your wallet address. There will be a small withdrawal fee, so expect the deduction.
Bonuses & Promotions
The site does not offer any permanent bonuses. The admins occasionally give out promo vouchers on the Internet, but these can be available only for a limited amount of time. You also still have to input the promo codes before they activate.
Support
Normally, a small Bitcoin casino will just have an email for its customer support. CryptoBetFair does things differently by using an IRC node as its main avenue of support. Contact the developers and have a short chat with them about the problem you are experiencing with their site. Note that they will sometimes be offline so they may not always answer quickly.