Tennis betting has several regular betting markets for a potential bettor to wager on. For beginners, here are some of the simpler ones to make it easy. First, there is the match winner bet. This is pretty self-explanatory. You just guess who is going to win and place a bet on that. This is pretty much the simplest bet that tennis betting can offer.
Tennis betting explained
Tennis betting isn't just about who wins in every match. There are other more ways you can enjoy the tennis betting system. Here are further bet types you can try:
1st Set Total Games – Bettors select the over or under on how many games there will be in the first set.
1st Set Winner – This one is another straightforward wager. Just pick who you think will win in the first set.
1st Set Tie Break – The bettor wagers whether there will be a tie break or not.
More complicated bet types for tennis include: Set Betting, where bettors make wager on how large the margin of victory is; Double Result, where bettors pick two bets and hope they both happen to win; and Total Match Games, which is similar to the 1st set Total Games except it is for the entire game.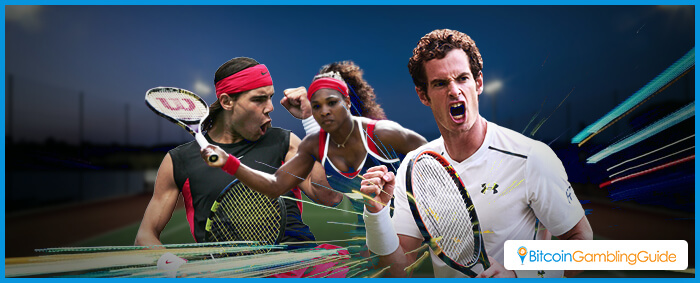 Tennis betting also allows for in-play betting. Players can wager on a variety of items while they watch a live stream of the game. The difference with live betting is that the odds are constantly changing and it is best to have a good Internet connection when playing.
Tennis betting tips
Winning a wager on tennis is based on knowing quite a few Bitcoin sports betting tips. There are three main factors that should determine how you should bet. First, there is the player's world ranking. All players have a world ranking number, especially if they are part of the competitive world in tennis.
World ranking is based on tournament points earned over the previous twelve months. This can be misleading, though, since a player's prolonged injury can mess up the results. This is because an injury can stop a player from losing just as much as it stops him from winning.
Tennis betting fans will also want to know on what surface the match will be playing on and how good a player is on a particular surface. There are different types of court surfaces out there ranging from cement to clay and this can affect a player's performance. Finally, a player's form should determine whether bettors should bet on them. Their recent performance can indicate problems that may cause them to lose or affect the total score.
Tennis betting odds are set by bookmakers taking all these into account but they are just a short hand. If you want to be successful when it comes to betting on tennis, then do a bit of research to find out more about the participating players in a match.