In-Depth Review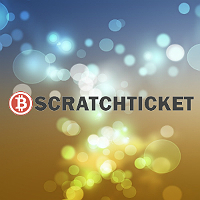 Have you ever wondered how fun it is to play scratch tickets with Bitcoin? Good thing there's no need to imagine the enjoyment of playing this game since it can be played with this digital currency in an online Bitcoin betting site named, Bitcoin ScratchTicket. Though it is quite new in the industry, the gaming platform instantly attracts players by offering a pleasurable and unique way of betting and winning BTCs. They just have to choose the spots to reveal and have the chance to be a winner of massive cash prizes in a flash.
There are five exciting scratch ticket games to choose from at the Bitcoin ScratchTicket.  Each of the games varies on the probability of winning, payouts, and the number of 'X' allowed. The highest probability is 60% with 1.6 times payout and maximum of 9 'X' symbols while the lowest is 4.12% with 23.4 times win with maximum of 5 'X' symbols. The main objective of these games is simple. Players just have to reveal six 'Bitcoin symbols' in their scratch card before revealing the maximum number of 'X' symbols. And since there is an array of games offered, they can easily find one that suits their preferences.
What's great about the Bitcoin ScratchTicket is that they run a Provably Fair system. With this, their clients are guaranteed that they are dependable and fair. The secret hashes along with other necessary details are shown in public, so that the players can verify the authenticity of their bets and integrity of the winning results.
Furthermore, Bitcoin ScratchTicket allows everyone to get a first-hand experience of their game without having the need to make a deposit or even register. In the free play mode, players are given the chance to play the game to see its features, learn the dos and don'ts, get acquainted with the interface, or know some strategies to increase the profitability when they switch to the real Bitcoin mode.
Definitely, it is possible to sign up in this site with just the username, password, and email address. In less than a minute, players can have their account accomplished and verified. After, they just have to purchase the scratch ticket by sending the required amount to the wallet address given. Payouts are sent instantly to the address the deposit is sent from.
Another commendable feature of the Bitcoin ScratchTicket is their gaming interface. Aside from it is vibrant and design-wise, players are guaranteed that it is smooth and user-friendly. The control keys are very responsive and the whole gaming platform is manageable. In fact, everyone can play the game instantly since everything is just one scratch away.
Bitcoin ScratchTicket is indeed an innovative Bitcoin gambling site to have a refreshing way when betting with bitcoins. In just a scratch, it is possible to win big in addition to extreme fun and excitement.
Related News
Learn about their latest developments, announcements, and new products in the related news articles below.