In-Depth Review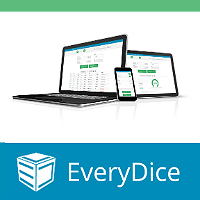 EveryDice is another addition to the burgeoning realm of Bitcoin dice sites. It is a newcomer in the Bitcoin betting industry and at first, you will find its features and offers typical. However, once you give it a try, just at this moment you will find the advantages and highlights it brings to give your gaming experience and winnings a good shot.
As low as 0.99% House Edge
This house advantage percentage is extremely competitive to any other competing sites. Given this, you have more chances of earning bigger sums since the payout rate is 99.1% so every time you get a winning roll, you will have almost twice the amount of your initial bet. This is a good deal isn't it?
Fun and Fair Bitcoin Dice Game
The game of Dice that EveryDice offers is definitely thrilling. You just have to choose whether you want to roll under/over as well as to modify the win chance or payout ratio in every round. If the lucky number rolled is within your target range, your bankroll will be topped with some earnings. Furthermore, you can be assured of fairness and transparency in this game given that it is 100% Provably Fair. You are more than free to use the seeds and secret hashes shown publicly to verify authenticity of your 'rolls'.
Roll the Dice Anytime and Anywhere you Want
EveryDice is built in HTML5 technology making it mobile friendly. You can definitely access your account and play their BTC Dice game to your heart's content in the browser of your mobile device or even android gadgets. This feature gives you limitless chances of winning wherever life takes you.
Register to Get Started
In contrast with other gaming platforms powered with Bitcoins, EveryDice requires you to make an account to get started. Worry not because it only takes less than a minute since the details necessary are just your username and password. After this, you can immediately make a deposit and wait for a network confirmation to start rolling their game of Dice.
Refer Players or Invest to Earn more
A chance to get lifetime revenue will be given to you by just referring active players to EveryDice. You will be entitled to receive 0.1% of the total wagered amount of the players you have referred. What's even better is that you can convert and withdraw your commissions whenever you want. More than that, you can also opt to invest in the house and there will be no additional fees collected.
Definitely, you want to know EveryDice's reliability since it is new in the Bitcoin gambling domain. Good thing is that it already gathered positive response from Bitcoin players who have played in this site. Most are satisfied not only on the game, but also on its near-instant payouts. Also, there have been no complaints or issues about this site so certainly, you are guaranteed of premium dice rolling deals. To know more about this Bitcoin Dice site, simply read more here.
Related News
Learn about their latest developments, announcements, and new products in the related news articles below.