In-Depth Review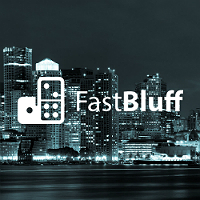 The fun never stops in the world of Bitcoin gambling because new Bitcoin games are launched frequently. In fact, FastBluff, an exciting Bitcoin dice game, is one of the newest Bitcoin games to hit the online gambling scene. However, by the looks of the gaming features it packs as well as the services it offers, this dice game definitely does not seem like a novice in the industry at all. That is why dice enthusiasts who want a fresher take in dice betting, but does not want to gamble in a mediocre environment should certainly bet their bitcoins in this dice game.
The striking feature upon heading over to its gambling site is the fact that its betting interface employs a modern design that banks on simplicity and professionalism. As a matter of fact, FastBluff does not give the feeling that it is a betting site at all. With an amazing skyline as the background image and the betting area positioned in the middle right above the betting history, this dice game definitely knows how to attract younger Bitcoin bettors.
What is also amazing about its interface is that it appears continuous and smooth, giving dice players more time to focus on the game itself rather than the unnecessary elements placed everywhere on the site. Through this, fans and the likes are guaranteed to appreciate the sleekness of this Bitcoin dice game.
Another key aspect is its game mechanics. Featuring the Roll Hi/Roll Lo concept, players will definitely have a quicker and easier time learning the dice rules, especially because this is already familiar. Being the kind of dice game that spearheaded its success during the beginning of Bitcoin betting, the Roll Hi/Roll Lo concept is poised to help this dice game make records of its own. Therefore, by simply indicating the odds, the payout, and the prediction, players can hit high payouts; thanks to the low house edge of 1%.
Aside from all this, FastBluff is also provably fair. Therefore, Bitcoin bettors who are wary of instances of cheating and game manipulation can leave all their worries behind. Moreover, this feature gives each player the ability to modify the client seed, which will further make the game random and secure. In this way, they are able to constantly check for the reliability of the game's fairness at any time they wish.
In addition, this game provides free bitcoins to all its players, but it is subject to the instant minimum withdrawals. Taking advantage of this, though, may reward lucky players with 1 BTC when they are chosen in what they call the Lottery faucet.
Furthermore, FastBluff ensures that bettors will have a trouble-free experience of transferring funds despite the fact that one confirmation is required for all deposits while withdrawals will only be processed when all incoming transactions are confirmed, making this Bitcoin dice game even more attractive.
Related News
Learn about their latest developments, announcements, and new products in the related news articles below.