In-Depth Review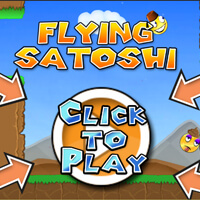 Flying Satoshi, a Bitcoin game released in February 2015 and is in beta phase as of writing, takes a different turn from the whole Bitcoin gambling department. This game technically cancelled out every hint of casino to provide full-on Bitcoin gaming fun through the game of skill. Players, who feel intimidated to join Bitcoin casinos due to the seriousness these venues possess, will definitely enjoy and are welcome to join the growing Flying Satoshi community.
Why is it Different?
Most Bitcoin games to date are based on brick-and-mortar casino games. That being said, the audience base of most Bitcoin games are limited to both casual and full-fledged casino players. However, Flying Satoshi did a different approach with its game delivery to fully accommodate different kinds of players to which they succeeded.
Flying Satoshi is a Bitcoin-based flash game wherein its main objective is to have pure fun. There are no complicated twists or objectives for the game; you just have to score more to earn more!
In addition, the game's interface is fun in itself. Upon visiting the website, you will be presented with a well-plotted comic-esque environment that extremely adds flair to your gaming mood.
This Bitcoin game is already a treat just by basing it on visual preferences. Moreover, it gives a brand new taste of Bitcoin gaming that is absolutely enticing to play.
Fun and Secure Way to Gamble Your Bitcoin
Players must be reminded that this flash game only operates on particular website browsers like Internet Explorer, Mozilla Firefox, and Opera. The game does not start either unless you download the Unity Web Player plugin that serves as the game's security system. Also, it will launch once you are done with the necessary procedures.
After the installation, the website will request players to sign up to enter the game. Your in-game name, email address, and password are the only information required to enjoy the game.
What makes Flying Satoshi an astounding game is the fact that players will be given a walkthrough on how the game works. The system will guide you to the necessary buttons to view the profile, account balance, leaderboards, and upcoming game events. Lastly, a free trial will become available to test how the game really works.
The objective of the game is to fly through the pillars without getting hit, using only the keyboard to control your character's flight. The aim is to score high to win more in-game currency, which is called satoshi.
How is it Played?
You are provided with two game options: play for fun and play for tournament. The play for fun option allows you to start the game with no costs charged. On the other hand, tournament games require you to pay an entrance fee that costs 2,000 satoshi coins (convertible to 0.001 BTC). However, if you trust your skills that much and wanted to wager more and win a big jackpot, you can join the highest-paying tournament that costs 20,000 satoshi coins or 0.01 BTC. Five percent of the winnings, however, will go to the website for its house edge.
All players are required to create an in-game wallet and will receive a new Bitcoin address through which funds can be sent to and from. Should you need to buy more BTC, you mare purchase some from Coinbase, as advertised on the site.
After doing the transfers, you are now equipped with satoshi coins. Tournaments happen every three minutes, with a two-minute warm-up period so expect no time to waste in waiting.
On another note, to earn your price, you must land a place in the top 10 leaderboard of your current game. If you are lucky to rank among the top 10 players, your BTC prize will be automatically sent back to your game wallet. You can also transfer your winnings back to your personal wallet at any time.
Overall Thoughts
Flying Satoshi is indeed an innovative game in the world of Bitcoin gambling. This game does not rely on pure luck but on pure skills. There is a definite chance for you to hit the number one rank as long as you keep pitting your skills against other players, together with dedicated training sessions.
This game, despite its beta phase, delivers a unique Bitcoin experience. You will never view Bitcoin games the same again with Flying Satoshi!
Related News
Learn about their latest developments, announcements, and new products in the related news articles below.