In-Depth Review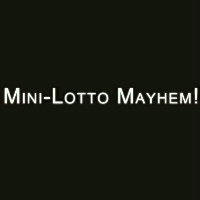 Mini-Lotto Mayhem is a bitcoin gambling site that offers bitcoin lotto. If you're new to bitcoins, please read out Bitcoin gambling page for a quick walkthrough on using bitcoins. Upon entering their site, in contrast with its name, you will not find any pandemonium as their highlighted features will surely entice and focus your interests to play bitcoin lotto with them. They claim to have a new drawing every block, provably fair, as well as the fact that you can play by having over .001 BTC.
As mentioned above, the only game available in Mini-Lotto Mayhem is bitcoin lotto. The only payment accepted method is bitcoins and the only language offered is English. Furthermore, you can easily get started in this bitcoin lotto site by just sending amounts of bitcoins, which must be over .001 BTC, to the wallet address they have provided in the upper portion of their page. After that, you have to wait for an entry to appear in few seconds. Then, you are up for action!
In Mini-Lotto Mayhem, the drawing of the lotto corresponds to one block in the Bitcoin blockchain; hence, the drawing can take place every ten minutes on the average, but can also take as few as three minutes or can be long as thirty minutes. Every lotto deposits that are valid will be included in a block which creates the entries in one lotto. The winner is chosen by adding all the entries received and pick one Satoshi at random. They have stated that, "your chance of winning is proportional to your bet size, and relative to the total pot." When you win you will have the total pot however, the 1.9% rake and any other transaction fees will be deducted to your winnings.
Mini-Lotto Mayhem also assures that they provide fair gaming. They provide a link for you to run a python program to prove that their bitcoin lotto game is valid, correct, and most importantly, fair. They also provide a chat box where you can send your questions and concerns immediately. You can also contact them via email.
When it comes to graphics, this bitcoin lotto site provides a so-so one. Upon entering the site, you already have the clue that it is a Bitcoin gambling site because of the bitcoin logo in the backdrop. The color black added mysterious character to the site urging the clients to deposit bitcoins to see what its hidden features are. In terms of information, it provides a good one but still it's lacking in terms of clear instruction and step by step procedures that will be a great help for the novice players who would want to try the wonders they offer.
Mini-Lotto Mayhem is an average bitcoin lotto site. Sure it offers cool features but it needs to provide more blocks for bitcoin lotto as one block will only be good for the players who want the game instantly; however, there are lots of players out there who would opt for longer blocks. Read more about Mini-Lotto Mayhem here.
Related News
Learn about their latest developments, announcements, and new products in the related news articles below.