In-Depth Review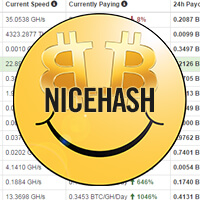 Mining cryptocurrencies requires expensive hardware and generates higher electricity bills, noise, and heat so much that engaging in such activity can be quite tiresome. Fortunately, services offered by certain platforms like NiceHash are readily available for the market to tap.
What is NiceHash?
If cryptocurrency mining is new to you, then it is possible to mistake this service provider for the other mining services available online. Do take note that this website does not rent actual rigs like what other mining websites do. What it does is it allows users to rent hashing power.
Think of it as a gateway that serves as the ground for people who prefer to offer hashing power and for those who wish to rent it. These two parties converge on NiceHash, which basically offers the most advanced cryptocurrency cloud mining and multipool on top of hash rental.
Launched in 2014, this mining platform has been in the business for more than a year already, providing quality services to miners who wish to earn payouts by either selling or buying hashing power.
Simple but Reliable Services
Given that you have the option to buy or sell hashing power, it is important to point out that these processes are simple enough even for novice miners to understand.
First, when buying hashing power, you may choose between two orders: standard bidding type and fixed type.
The first one involves a bidding process, where instances of getting out-bidded by other miners are absolutely possible. Thus, constant monitoring of your orders is vital with this order type. On the other hand, the fixed type results in a guaranteed desired hashing speed in exchange for a certain price.
Second, when selling hashing power, the use of a multipool that supports the PPS system is allowed. However, not all mining pools are supported by NiceHash. In fact, the supported types normally follow the stratum protocol. Therefore, knowing the nature of the pool is vital before indulging in this activity.
Transparent Payment Systems
With the processes of buying and selling hashing power designed to provide convenient and user-friendly steps, all you need to be sure of is that you have enough balance on your account and that you are always aware of the changes, especially when using the fixed type order. After all, this website maintains a 100% fair game for both the sellers and the buyers.
Loading enough balance is quick and easy. You simply send BTC—no other cryptocurrencies or real-money are accepted here—to the provided address then wait for three confirmations before you can start using your balance.
Meanwhile, when it comes to payments, keep in mind that you, as a seller, will only get paid 100% for all the valid and legit work your rigs have provided. Likewise, buyers pay 100% for valid and verified works.
However, never be surprised to see the processing fee deducted from your funds. A fee of 3% will be charged from both buyers and sellers for each transaction, so it is only normal to see some amount slashed off your total balance.
The Verdict
NiceHash may not look like the most aesthetically appealing of them all, but it definitely packs a lot of features. With a variety of supported algorithms (SHA-256, Scrypt, Scrypt-N, and X11), expect to mine Bitcoin and altcoins in what perhaps to be the simplest methods available online today. If you are looking to indulge in Bitcoin mining, do consider availing the services provided by this platform.
Related News
Learn about their latest developments, announcements, and new products in the related news articles below.