In-Depth Review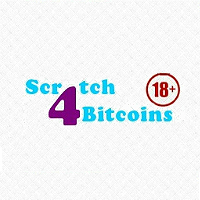 Scratch that card and you will definitely get a whopping jackpot prize! Scratch4Bitcoins is one of the few online betting sites that offer scratch card game with bitcoins. In this gaming portal, you can play anonymously since no registration is required and you certainly have the chance to win hundreds of bitcoins in the Progressive Jackpot.
Start Scratching at Scratch4Bitcoins
As mentioned, you don't need to create an account since registration not at all required. All you need is a bitcoin address so you can load your credits, play, and get your winnings. In addition, you can also use this address to leave your game and come back later and your balance will still be there – complete.
Scratch4Bitcoins' Progressive Jackpot
If you are aiming for a life-changing win, this Bitcoin gambling site is absolutely for you. Every purchased scratch card added bitcoins to the progressive jackpots. Take note that one scratch card costs 0.1 BTC. For you to win, you must find all four bitcoins in one playing card. You have the chance to win up to over 400 BTC if you get these four lucky bitcoin symbols. On the other hand, you can sure enjoy secondary prizes if you don't get all four bitcoin symbols. One bitcoin symbol in your card gives one free scratch card, two symbols multiply your bet by two, and three symbols can get your stake tenfold higher.
Promotional Codes
As rewards, Scratch4Bitcoins gives promotions to their players. Most of the time, these are free scratch cards you can get the most of to win good sums of bitcoins. Once you get the promotional code, just enter the code in the 'Cash In' page to enjoy your bonuses. These treats are given randomly so better keep an eye on these mouthwatering surprises.
Is Scratch4Bitcoins a scam?
If you go over the internet, you will find some allegations that this bitcoin betting site is a scam. The complaints are mostly about unpaid winnings in their free scratch card games. Players claimed that they have been asked to deposit 1 BTC first before they can receive their payouts and even some stated that this site do not offer 'Terms and Conditions' page so definitely it's a scam. However, you can instantly say that this claim is wrong because in the homepage of the site a link to their page on 'Terms and Conditions' is given. Lastly, these complaints are from players who received free scratch cards which are considered a bonus. Of course, in every betting site, it is a rule that for you to enjoy this reward, you must meet the wagering requirements first.
Scratch4Bitcoins is a great Bitcoin gambling site. If you think that luck is in your favor these days, hurry to this gaming platform and purchase some playing cards. If you don't get the jackpot, you still have chances to double or even make your wager tenfold higher in just one scratch. Read more about this site.
Related News
Learn about their latest developments, announcements, and new products in the related news articles below.